The fine art of the armourers and blacksmiths in the 89th Auction of Hermann Historica GmbH
The auction on 27 May 2021 is entirely dedicated to antique arms and armour from all over the world
The impressive craftsmanship of the early armourers and blacksmiths is clearly evident in the 322 lots, with a range of medieval and early modern objects from arsenals and royal armouries. Technically sophisticated and meticulously detailed, armour was not merely designed to protect the wearer, but also to underline his prestige.
Invariably walking the tightrope between optimum mobility and optimum protection, the most outstanding craftsmen of their time created objects beyond compare, such as a black and white half armour for a man-at-arms from South Germany, complete with the matching burgonet, which is now estimated at 25,000 euros. Dating from 1560, every last component in this set of exceptionally decorative and homogeneous armour is original. This association can be clearly seen in the identical chased décor of finely inset, decorative lines and surrounding band of meander ornament in black and white, popularly known as running dog.
No less ornate, and requiring the skill of an excellent bladesmith to produce, are the scores of edged weapons on offer, some of which are extremely elaborate. A very early medieval sword appears to be the prototype of a Gothic sword, commanding attention with its striking, gold-inlaid inscription and a leaf ornament, arranged around a stylised eagle. The new owner will have to part with a minimum of 12,000 euros for this fabulous, remarkably rare piece. Listed at the same guide price, an imposing Brunswick two-hand sword from the late 16th century bears comparison with the finest arms. Its guards and finger rests are wrought in the shape of birds and its guard rings embellished with lion's heads.
Undoubtedly of courtly provenance and with similar pieces gracing prestigious collections such as the Wallace Collection in London or the highly respected former Dreger Collection in Berlin, a distinguished, silver damascened sword is expected to fetch 35,000 euros. This extraordinary edged weapon, whose blade was forged in Solingen circa 1610, features almost every conceivable decorative technique. The quillons is embellished with openwork, inlaid in silver and partially gilt, while the grip is wound with silver wire and the pommel has six fullers, lavishly inlaid in silver, with gilt fullers. Shields, some of which were highly ostentatious, provided the final flourish to the equipment and defences of the combatants. One such is a Milanese gold-inlaid roundel, of breathtaking aesthetic appeal and with impressive workmanship, that probably dates from the second half of the 17th century. Adorned with antique-style warriors in combat, the iron shield is sure to coax an enthusiast into investing 20,000 euros.
Next up, an exceptionally opulent Renaissance crossbow will not disappoint. Entirely veneered in bone, covered in hunting motifs (hunters and game), bids from 12,000 euros are welcome. Buyers will also be interested in the wide selection of sumptuous oriental weapons. One highlight, an 18th century pair of Algerian firegilt spurs set with corals, is an undisputed pièce de résistance among the rare African weapons and may now be acquired for 2,800 euros.
The 89th Auction of Hermann Historica GmbH presents an extensive lineup of 3303 collectibles from the specialist areas represented by the auction house, from antiquities to medieval armour and weapons, works of art and craftsmanship, Asian artworks and artefacts from military history, exquisite heirlooms from ruling houses, right through to antique firearms, all coming under the hammer from 26 to 28 May and on 1 and 2 June in Grasbrunn near Munich. All objects will be on display during the pre-sale viewing from 19 to 22 May and on 29 and 31 May.
For all objects you can find detailed descriptions and numerous photos in best quality on the website of Hermann Historica. www.hermann-historica.com
More highlights from our auction: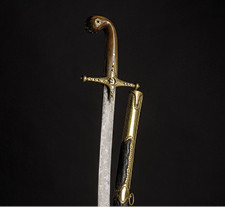 A deluxe Ottoman shamshir with gilt mounts and diamond-studded guard, circa 1830 Lot 1009, Starting price € 12.000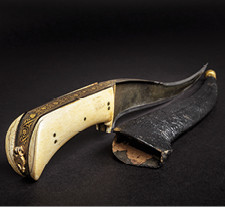 A Persian gold-inlaid pesh kabz, 1st half of the 19th century Lot 1047, Starting price € 6.000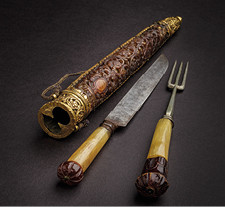 A distinguished set of German cutlery with amber knobs, probably Koenigsberg, 2nd half of the 17th century Lot 1222, Starting price € 7.500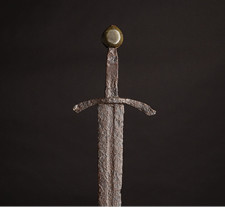 A French mediaeval sword with brass pommel, circa 1350 Lot 1228, Starting price € 8.500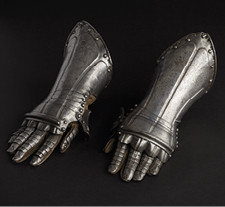 A pair of gauntlets with the original leather gloves, Nuremberg, circa 1580 Lot 1179, Starting price € 5.000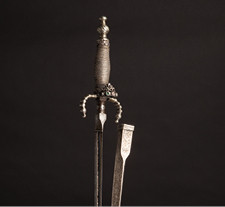 A Venetian silver-mounted dagger,dated 1767 Lot 1218, Starting price € 4.000
The various objects are being offered for auction at the prices stated above. A premium amounting to 25% (incl. VAT) will be addedto the final hammer price.
Copie permitted - please send proof to:
Hermann Historica GmbH
Marketing Department
Bretonischer Ring 3
85630 Grasbrunn / Munich
DEUTSCHLAND

or by Email to:
press@hermann-historica.com
Further information and high-definition photo material
Request to:
press@hermann-historica.com
All photos:
Copyright Hermann Historica GmbH 2021