Submitting absentee bids directly online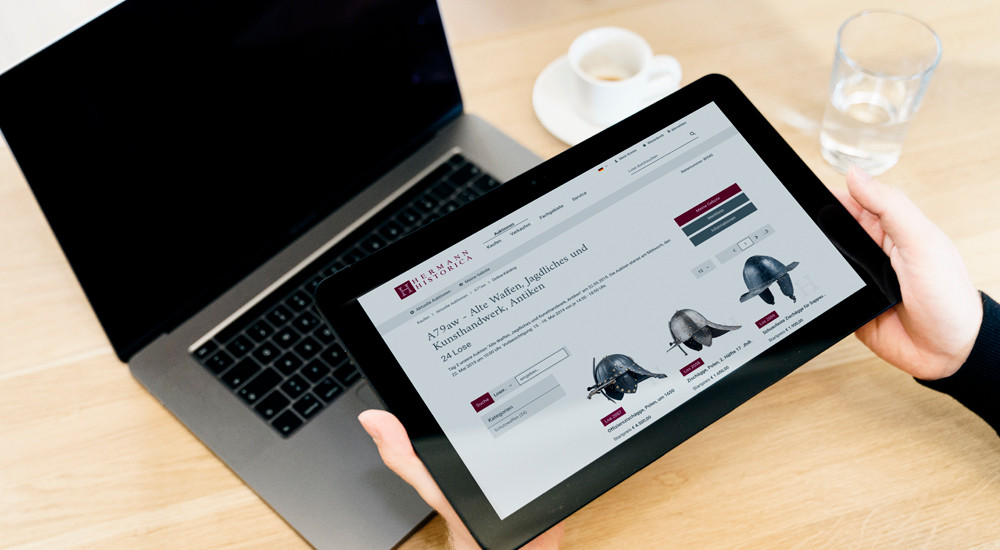 Placing an absentee bid ahead of an auction via our website is very easy. Any such bid, once it has successfully passed the approval process, will be entered into our auction books as a "written absentee bid". Kindly note that the approval process might take some time, so make sure that you don't submit your bids too late, defintely no later than the starting time of the auction! Else you risk your bid not to be considered any more.
How to place an absentee bid in five easy steps:
Step 1:
To begin with please login to your user account on our website. If you don't have such an account yet, now is the time to register. To do so click the "Login" button top right on your screen. On the bottom of the next screen click the link "Don't have an acccount? Sign up". Please complete all required fields and submit your registration by clicking the "Continue" button. Now an email will be sent to the email address you gave, containing a confirmation link. This step is required to make sure that nobody signs up in your name. To confirm your registration please click the link in our mail.
Step 2:
After completing Step 1 you will automatically be logged in. Should this for some reason not be the case, please click "Login" again and enter your username and password to login. Go to the catalogue containing the lots you want to bid on, and click on the first lot on your list. In the grey box containing the starting price of this first lot please click the "Unlock Auction" button. In the next screen please confirm that you have read and accepted your "General Terms of Business" and click the "Confirm" button.
Step 3:
Once you have confirmed our GTB's you are ready to submit your bids. Go to that first lot on your list again, and the grey box containing the starting price will now contain a field to "Enter your bid in €uros" and the button "Place bid" right next to it. Once you submit your bid by clicking on that button, your bid will show in our "absentee bid list" and will be approved quickly. In that very same grey box you can also see the countdown to this auction, telling you how much time is left to enter additional bids.
Step 4:
Once you have submitted your bid a popup window will open that will let you enter invoice and shipping addresses other than those given in your initial registration. Use this option e.g. if you want the bill to be sent to your vacation home, while the item shall be delivered to your office address. Additional remarks, e.g. concerning your payment method or pickup options you can enter into the "Notes" section.

Step 5:
Your bid will now undergo our internal approval process. As long as this process is pending your bid will be displayed right atop of the starting price in a yellow info box, also giving your bid amount. As soon as your bid has been approved, the yellow info box will turn green. Should your bid for whichever reason have been rejected, the info box turns red. In this case - please get in touch with us!
To get an overview of all your bids - see below.

Overview of your absentee bids:
To keep track of your absentee bids you can easily generate a comprehensive list of all bids that you have submitted so far. Click on the "Absentee bids" button top right. This screen displays a complete list of your absentee bids, including all relevant status information. In this view you can even increase or lower your bids.
Furthermore you can add a telephone bid request and check, for which lots you already have submitted a telephone bid. Please note: phone bidding is possible for classic auctions only, not for online-only auctions, and by placing a phone bid request you automatically place a bid to the amount of the lot's starting price. Additional info to phone bidding can be found here.
When changing to list-view by clicking the "List" button top right (next to the "Gallery" button) you will get a table-like overview of all the bids you have submitted, containing all relevant information, from a thumbnail of the lot to its number, description, starting price and your bid amount. Where a phone bid was requested your phone number will show (always double check that number, please! Nothing is more unpleasant than missing a lot because of an incorrect phone number).
Modifying your absentee bids:
Increasing an absentee bid:
To increase an absentee bid that you have already submitted, simply enter a higher bid on the selected lot. Once we have accepted your updated offer, it will be entered with a later date and time in our system, thereby replacing your previous bid.
Lowering an absentee bid:
Lowering an absentee bid is as easy as increasing one. Enter your new, lower absentee bid into the bid field and submit it. Your new, lower bid is now sent to us and will be marked in green once it has been accepted. The relevant bid for us is always the most recent bid you submitted!
Cancelling an absentee bid:
To cancel an absentee bid, please send us an email or fax with the following information: your full name and address, the lot number and the amount of your bid. We will then remove your bid from our system as soon as possible and delete it from the list of your absentee bids. Once again, it is important that we receive any notification of cancellations by 6 pm on the day prior to the respective auction!