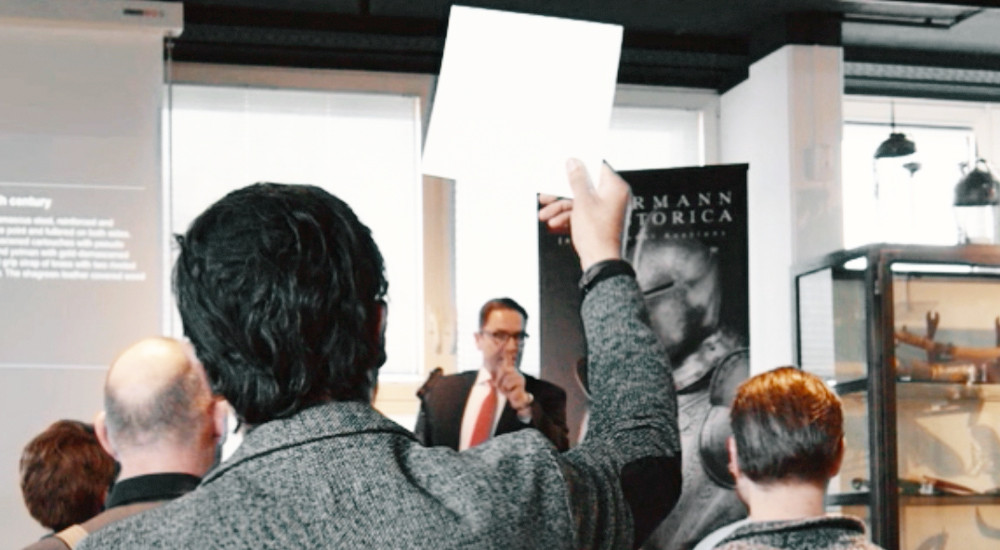 We look forward to welcoming you in person as a floor bidder at our auctions.
Bidding in the saleroom is very simple. You may register on the day of the sale for the respective auction at the reception of our salerooms. All you need to register is a valid identity card (unless you wish to bid on firearms requiring official authorisation, in which case we will require your weapons possession card (Waffenbesitzkarte)).
You will be issued a valid floor bidder number and may place bids for your chosen lots directly in the saleroom. Our bidding increments are approximately 10% of the previous bid.When your lot is called and you wish to outbid the current high bid, simply raise your paddle with your bidder number, ensuring that this is clearly visible to the auctioneer.
After being called three times, the auctioneer accepts the highest bid. If yours is the winning bid, you may pay for your purchases directly on the spot and, if you wish, take them home with you.