Bidding live in the auction as an online bidder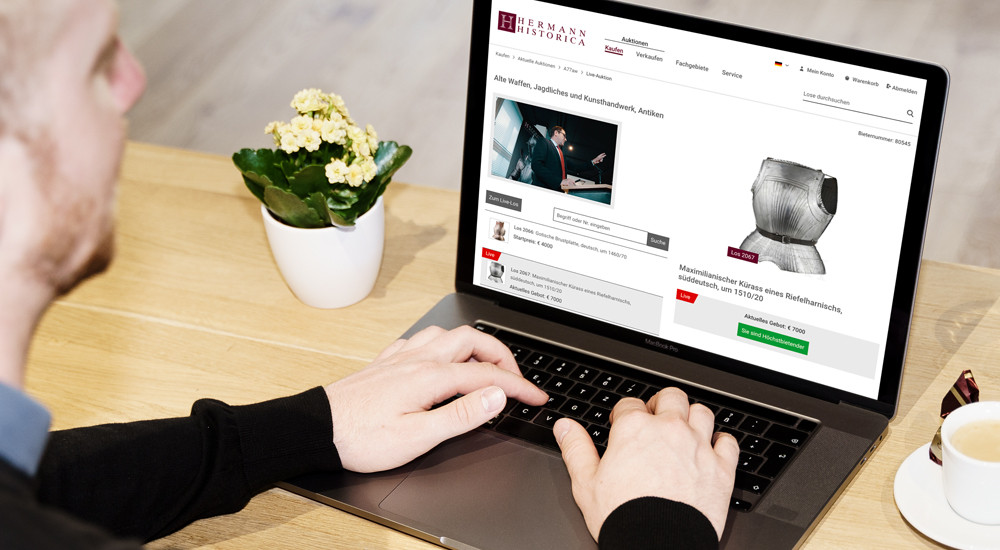 LIVE bidding via internet is a great way to participate in any of our auctions, be that a classic auction or an online-only auction. All you need are three things:
A decent Internet connection
Registering as an online bidder ahead of time
Accepting our General Terms of Business prior to placing your first bid
To make your bidding experience even more exciting you can join any classic* auction via our live stream. Hi-res video and good sound quality will bring the feeling of the auction floor to your desk, wherever you are, on the beach, in the jungle or in the office!
* Online-only auctions are virtual events - there is no floor, there is no auctioneer calling the lots, there are no bidders in the room - it all happens by software on the web only.
How to bid LIVE in the auction:
To begin with please login to your user account on our website. If you don't have such an account yet, now is the time to register. To do so click the "Login" button top right on your screen. On the bottom of the next screen click the link "Don't have an acccount? Sign up".Please complete all required fields and submit your registration by clicking the "Continue" button. Now an email will be sent to the email address you gave, containing a confirmation link. This step is required to make sure that nobody signs up in your name. To confirm your registration please click the link in our mail.
1 The top left section of your screen marked "1" will display our LIVE-stream. Video and sound will bring our classic auctions to your desk. Once the auction starts the video stream will start automatically. If you would rather disable video and/or sound, hover your mouse over the LIVE stream and change your settings. Please keep in mind that online-only auctions have no LIVE-stream.
2 The top right section of your screen will display an image of the current lot.
3 Section 3 contains a lot of info: the current bid status, info on the highest bidder (floor, absentee bid or internet), and the countdown of the auctioneer until the lot is knocked down to the highest bidder. If you have properly registered as a LIVE bidder you will also see a large red button that will allow you to submit a bid high enough to outbid the currently highest bidder. Just click that button and the proper amont will automatically be submitted. Bidding increments HERE
4 Section 4 lists all the lots of the auction in progress. A little red flag ("Live") marks the lot currently being auctioned off. This list will also contain the bids you have submitted and indicate their current status in one of three colours: green - accepted / yellow - pending / red - declined
You can also see which lots have successfully sold and their respective hammer price. Unsold lots are marked as such. If you want to purchase unsold lots please check our FAQ section, the post-auction sales how-to.
5 This section contains additional information regarding our terms of business, the bid increments, payment, shipment, and others.
LIVE bidding through third party platforms
Bidding on our catalogues can also be effected through third-party auction platforms such as Lottissimo and Invaluable. The details on how to register and how to bid you can find on the respective website of these platforms. Please note that Hermann Historica is only involved in accepting you as a bidder. We are not involved in any way in the bids you submit through these platforms, nor do we have any say in so-called "secure-bids". Please address all your questions regarding the services of these platforms directly to them!
Registering through these platforms will enable you to place bids for up to € 8.000 (= € 10.000 including buyers commission). This limit is based on the 5th EC Directive against Money Laundering, which forces all businesses trading in art to provide records of the identity of each buyer (copies of governmental photo ID required) acquiring objects for 10.000 Euros or more, no matter if the transfer of funds is effected in cash, through credit card, wire transfer or any other form. In case you want to bid higher please contact us as soon as possible, but no later than 24 hours ahead of an auction.
LIVE bids are legally binding. Once you win a lot as the highest bidder, a valid purchase contract has been entered into.
IMPORTANT INFORMATION:
Bidding through a third-party platform involves verification processes that can last up to 24 hours. Therefore you should register as a bidder no later than 24 hours before the auction starts!
Winning a lot through an external auctioning platform involves an additional 3 % commission for this platform.