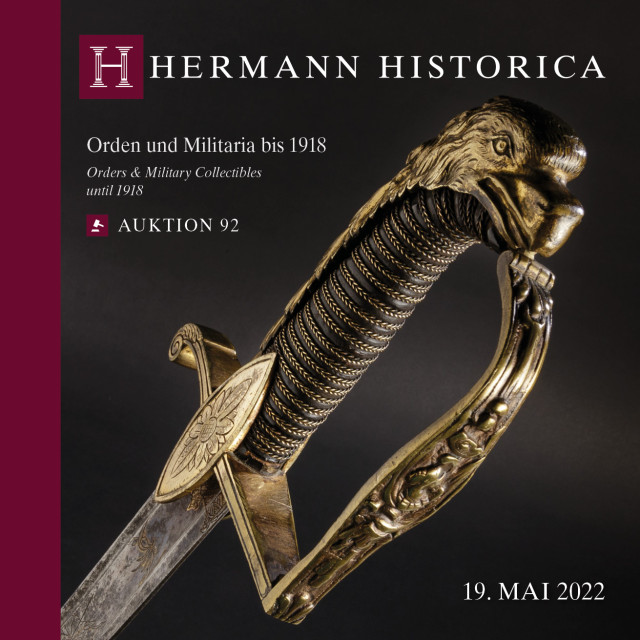 Orders and Military Collectibles until 1918
Our catalogue "Orders and Military Collectibles until 1918" includes 351 lots. The descriptions are in German, with English translations of objects above a certain threshold. The high-quality thread-bound catalogue on high-gloss paper has the format 22 x 22 cm and shows each item in at least one colour photograph. Since our printshop could not guarantee timely delivery of hardcover catalogues, we opted for softcover to make sure that catalogues would arrive well ahead of the auction - and not afterwards.
Description
To our loyal customers and to those yet to discover our auctions the catalog of our classic Spring Auction 2022 contains a wealth of interesting items, from orders and decorations, paraphernalia of royal origin to militaria of all kinds from Germany and all over the world.
The current crisis notwithstanding we would like to point to two Russian decorations of outstanding quality, a Cross of St. George (lot 3008) and a Cross of St. Anna (lot 3006), dated 1849 resp. 1867, both made by the prestigious firm of Julius Keibel. Just about at the same time, between 1850 and 1875, one of France's foremost sculptors created a wonderful marble bust of one of Russia's greatest adversaries, Napoleon Bonaparte. Larger than life this bust shows Napoleon in the Roman style of a Caesar, wearing a laurel wreath, lot 3050.
Talking of Emperors: what would a 19th century militaria auction be without Empress Sisi of Austria?? While the items on offer are getting increasingly hard to come by, we again managed to secure a range of fascinating objects: from a personal seal (lot 3097) to a photo album (lot 3105) all the way to a pastel green summer dress, made in Paris by a top "fashion label" of the time, namely "Robes & Confections - Mme Masson" (lot 3111). A great match to this lot (with regards to period and emotion) are two luxurious water taps from Castle Linderhof, the retreat of Ludwig II, King of Bavaria, (lot 3219).
A lot more dramatic, and to those interested in contemporary history of the utmost significance, is lot 3126: 14 documents from the estate of Lord Chamberlain Karl Freiherr von Rumerskirch (1867 - 1947), regarding the assassination of Austria's heir to the throne, Franz Ferdinand, in Sarajevo in 1914. The lot contains amongst others a handwritten draft of the autopsy report, a typewritten draft of the Commission protocol, listing the 14 military officials and doctors attending in Konak, and the following report on the events leading up to the assassination. What an interesting read!
To all those in search of military accoutrements – there is no need to be concerned! We have put together a great choice of helmets, edged weapons of all sorts, uniforms and gear from all over the world, too much to present it here in detail!
Don't hesitate, flip through this catalog – it's well worth it!
Information
| | |
| --- | --- |
| Order number: | A92m |
| Number of lots | 351 |
| Department: | Collections, Orders & Militaria |
Related Auction Catalogues