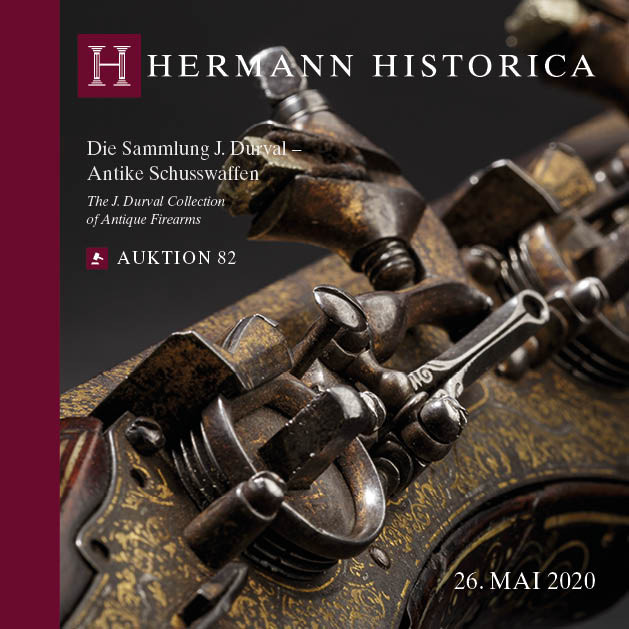 The J. Durval Collection of Antique Firearms
Our catalogue "The J. Durval Collection of Antique Firearms" includes 167 lots. The descriptions are in German, with English translations of objects above a certain threshold. The printed catalogue on high-gloss paper is in the format 22 x 22 cm. In our high-quality thread-bound catalogue all lots are illustrated in color.
Description
It is a rare occasion that we have the opportunity to offer such a first-rate private firearms collection in its entirety. Having amassed the individual pieces with great judgement and exceptional expertise over half a century of dedication, the Portuguese collector J. Durval has now decided to part with his treasured collection on account of his age. He was especially interested in the technical development of the firing mechanisms, from the matchlock to the wheellock and the flintlock, right through to early percussion revolvers. As a result, his collection comprises not just approx. 100 exquisite pistols from four centuries but also a good 60 individual gun and pistol locks, some with extremely rare mechanisms.
One focus of the firearms collection is the group of early wheellock weapons, eleven in all, with outstanding pairs of puffers, Nuremberg all-metal pistols and an unusual, two-shot wheellock pistol with a double lock (lot 2013). In addition to oriental arms of the highest order, the lineup includes flintlock and percussion pistols made by many prestigious gunsmiths in Spain, Italy, Germany, the Netherlands, England and Scotland. Among them are true rarities, such as a pair of flintlock pistols (lot 2029) circa 1710, which was produced in Augsburg and whose pistol systems may be attributed to Lorenzoni. We are also offering an unusual air pistol, designed to resemble a flintlock, (lot 2044) by Edward Bates of London circa 1770 and an exceptionally rare pistol with a chemical firing system (lot 2047) by Forsyth of London, circa 1820.
Rare, museum-quality pieces can also be found in the individual locks, such as a lavishly chiselled, Brescian double snaphaunce lock from the late 17th century (lot 2019) for two shots in succession or a combined flintlock and percussion lock (lot 2140) by Samson Davies of England circa 1830.
A small collection of European service pistols and firearms accessories, such as powder flasks and an unusual Italian musket support (lot 2166), provide the final flourish in this catalogue.
Information
| | |
| --- | --- |
| Order number: | A82d |
| Number of lots | 167 |
| Department: | Collections, Firearms |
Related Auction Catalogues