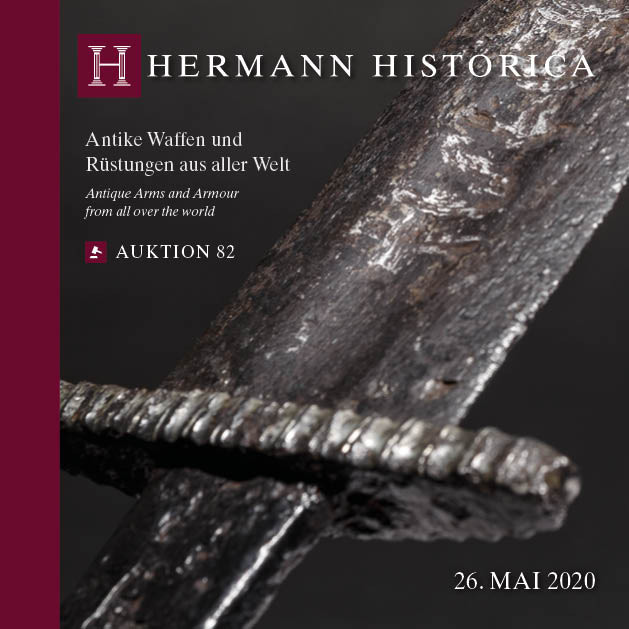 Antique Arms and Armour from all over the world
Our catalogue "Antique Arms and Armour from all over the world" includes 559 lots. The descriptions are in German, with English translations of objects above a certain threshold. The printed catalogue on high-gloss paper is in the format 22 x 22 cm. In our high-quality thread-bound catalogue all lots are illustrated in color.
Description
The 2020 Spring Auction also offers a wide selection of old arms, with almost 600 superlative edged weapons and pieces of armour from all over the world.
Collectors of oriental weapons will find a treasure trove of sumptuous daggers, sabres and firearms from the Ottoman Empire, Persia and India, lavishly embellished with coral and ivory. A deluxe Greek kilij (lot 1016) is certain to be the centre of attention, its finely nielloed silver scabbard featuring countless motifs from the period of the Greek War of Independence. Also remarkable is an Indian khanda, dating from circa 1800 (lot 1137), whose solid gold mounting bears testimony to its provenance in the highest courtly circles.
In addition to a impressive lineup of Asian arms with fabulous Indonesian krises and Japanese swords, the chapter of exotic weapons presents a rare group of intricately carved Polynesian and Melanesian clubs from the Pacific area (lots 1226-1252).
Aficionados of European armour and components will be interested in two complete sets of first-class, light cavalry armour in quality befitting an officer (lots 1281 and 1282). Moreover, the exceptional lots continue with helmets, coats of mail and pieces of armour from the early Middle Ages to the beginning of the modern period.
As well as numerous pole arms and hunting spears, this catalogue also includes a wide range of rare European maces and war hammers, dating from the late Gothic and the Renaissance.
One particular highlight of this year's auction is doubtless an extremely unusual Renaissance trousse, still in the original leather case (lot 1413), the individual utensils adorned with elaborately etched, engraved and gilt décor.
The assemblage of European edged weapons is also of the first order. For example, one exceptional nonpareil is a 10th century Viking sword (lot 1427), its blade produced by the celebrated Ulfberht workshop and still in good condition. A Saxon sword with silver grip mountings (lot 1459) stands out in particular among the numerous opulent rapiers. Connoisseurs of early military edged weapons are spoilt for choice, with not just several well preserved, 16th century riding swords and two-hand swords, but also a rare dagger for the Munich Town Guard (lot 1461) with a Stantler hallmark and the arsenal mark of the Ducal Armoury in Munich.
The catalogue concludes with a selection of crossbows and accessories; apart from two Renaissance crossbows (lots 1550 and 1551), entirely covered in bone inlays, an exquisite, late 17th target crossbow (lot 1552) from the workshop of Johann Bensheimer the Elder in Dresden is worthy of special mention.
Information
| | |
| --- | --- |
| Order number: | A82aw |
| Number of lots | 559 |
| Department: | Antique Arms |
Related Auction Catalogues