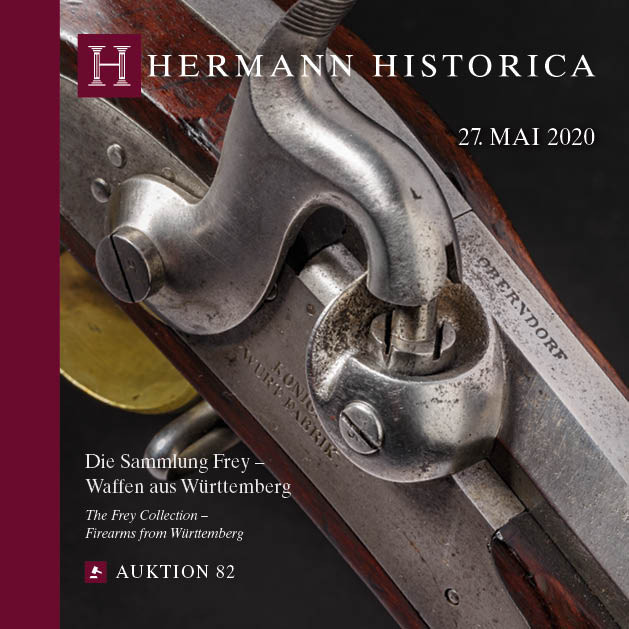 The Frey Collection – Firearms from Württemberg
Our catalogue "The Frey Collection – Firearms from Württemberg" includes 190 lots. The descriptions are in German, with English translations of objects above a certain threshold. The printed catalogue on high-gloss paper is in the format 22 x 22 cm. In our high-quality thread-bound catalogue all lots are illustrated in color.
Description
We are delighted to be able to present the collection of Karl Frey in this very special catalogue. It focuses primarily on firearms that were produced by the Württemberg arms manufacturer Mauser in Oberndorf am Neckar and surroundings, and thus, naturally, also on the service weapons issued to the Baden and Württemberg troops.
The collection also includes a rare carbine for trials based on the "Langer Schützenkarabiner" (lot 4012) with what is known as a track lock, which may be regarded as one of the precursors of the percussion lock for military use. Also up for sale is the first model of an M 1845 sniper rifle, Wild system (lot 4004), whose firepower eclipsed all other contemporary 'Jäger' rifles by adding a small quantity of water during the loading process. And who has not heard of the famous Vereinsgewehr M 1857 (lot 4022), which was used in Württemberg, Baden and Hesse at the same time and produced in Oberndorf?
Along with these rarities, scores of other muzzle-loading guns, small arms with flintlocks and percussion locks, and guns with a needle fire system are now set to change hands.
However, apart from these weapons, Karl Frey also amassed a plethora of more modern guns, which are designed to take metal cartridges.
Our catalogue also offers a Gewehr 98, Mauser 1916 (lot 4062), probably the ultimate, classic model among German military service rifles, and a close 'relative', a Mauser Wehrmannsbüchse (lot 4073). Strictly speaking, although not quite an Oberndorf weapon, a Korth revolver (lot 4089) features the .357 Magnum and an attractive, stainless steel design; its constructor did once work for Mauser, after all.
Information
| | |
| --- | --- |
| Order number: | A82f |
| Number of lots | 195 |
| Department: | Collections, Firearms |
Related Auction Catalogues