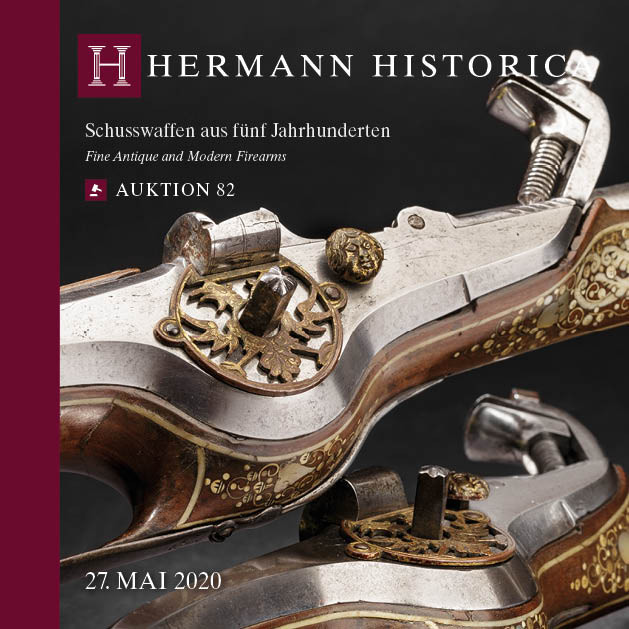 Fine Antique and Modern Firearms
Our catalogue "Fine Antique and Modern Firearms" includes 656 lots. The descriptions are in German, with English translations of objects above a certain threshold. The printed catalogue on high-gloss paper is in the format 22 x 22 cm. In our high-quality thread-bound catalogue all lots are illustrated in color.
Description
This spring, the catalogue is living up to its name once again. Over 600 selected lots take the collector and aficionado on a journey through virtually the entire evolution of firearms.
A bone-inlaid matchlock musket (lot 3017) is impressive evidence that weapons such as this did not always have to be just an accoutrement of the common musketeer in the field – sometimes they were also tiny masterpieces. Moreover, several fabulous, elaborately made wheellock rifles (lots 3018, 3020 and 3022) show off the skilful craftsmanship of 16th and 17th century gunsmiths. Bringing up the rear in our parade of wheellock weapons are two outstanding small arms: a pair of Bohemian long wheellock pistols (lot 3033) and an unusual Nuremberg mortar-wheellock pistol with a bronze barrel, dating from circa 1590 (lot 3031).
This brings us to the weapons with flintlocks or percussion locks, which represent the next step in the development of firearms. A lavishly embellished miquelet carbine from Brescia circa 1680 (lot 3036) and a deluxe miquelet rifle by Thomaso Contino of Pinerolo circa 1720 (lot 3041) are evidence of the elegant chiselling that was prevalent in northern Italy, while a Silesian battle axe (lot 3041) attests to the technical sophistication of northern alpine master gun makers.
Speaking of technical sophistication, admirers should definitely take a look at lot 3073, a pair of Flemish breechloader flintlock pistols from the early 18th century, and at a cased breech-loading percussion pistol by Gastinne Renette of Paris, circa 1860 (lot 3139), a marvel of both technical and aesthetic perfection.
After firearms had been muzzle-loaded for centuries (with a few notable exceptions, as mentioned above), the next great leap forward was, without doubt, the invention of the metal cartridge. Initially, this led to whimsical manifestations like the "Harmonica" pistol by Jarre & Co of Paris (lot 3299), but subsequently also to such groundbreaking constructions as the Bergmann Mod. 1896 pistol No. 3 (lot 3240) or the legendary Mauser C 96, which we have in our sales programme as the 6-Shot Conehammer or the "facilitated Mauser self-loading pistol for officers" (lot 3248).
Information
| | |
| --- | --- |
| Order number: | A82s |
| Number of lots | 656 |
| Department: | Firearms |
Related Auction Catalogues