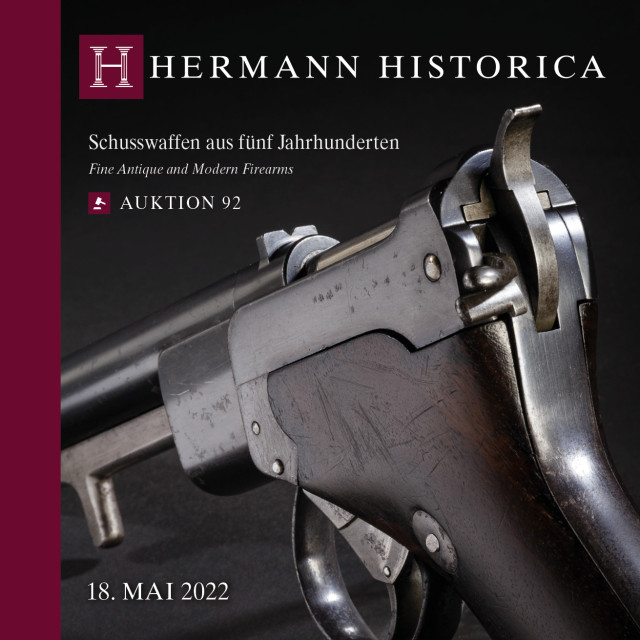 Fine Antique and Modern Firearms
Our catalogue "Fine Antique and Modern Firearms" includes 967 lots. The descriptions are in German, with English translations of objects above a certain threshold. The high-quality thread-bound catalogue on high-gloss paper has the format 22 x 22 cm and shows each item in at least one colour photograph. Since our printshop could not guarantee timely delivery of hardcover catalogues, we opted for softcover to make sure that catalogues would arrive well ahead of the auction - and not afterwards.
Description
The firearms catalogue is as always split into two parts, civilian and service guns. The former brings more than 600 lots to auction, the latter close to 400.
Outstanding wheellock guns are always eye-candy to the tech-savvy. Lot 2026 brings a rare transitional rifle to auction, dated 1550, when confidence in the new and fancy wheellock was still limited, so a matchlock was integrated as well – just to make sure. A 100 years later that concern became obsolete and wheellocks, albeit still expensive to manufacture, became standard military sidearms, such as this pair in lot 2049.
Royal armouries had a faible for good looking guns – mostly to show-off and impress visitors, of course, e.g. when going for a hunt. From the royal house of Hanover lots 2051 to 2054 give testimony to this aspiration. Another luxurious flintlock rifle, lot 2060, is too pretty and delicate to shoot, but rather made to display one's wealth - just like this outstanding pair of flintlock pistols by Cunet in Lyon, lot 2082.
The transition from flintlock to percussion systems at the end of the 18th/beginning of the 19th century, saw another remarkable, but short-lived development. An Italian gunsmith by the name of Girardoni built an outstanding air gun, with a tubular magazine holding 20 balls, an impressive accuracy, penetration power at 100 m, and a rate of fire that was yet unheard of. The imperial Austrian army adopted them for sniper units, but hardly ever used them, for fear of loosing their expensive guns. An extremely rare case with all contemporary accessories of such a rifle, built for hunting purposes, comes to auction as lot 2127.
Well worth mentioning is a cased pair of pistols by Louis Perin-Lepage from Paris, 1850. These luxurious percussion pistols are in excellent condition and come with a full set of original accessories.
But the biggest technological advances were made at the end of the 19th century, particularly in Austria, where an enormous push from single loading to semi-auto pistols saw new models by the day. Lot 2291 brings an exceedingly rare Austrian Schulhof repeating pistol, dated 1887, to auction. Just a handful of samples are known to exist today. Only a few years later well-working semi-auto pistols were brought to market, such as the desirable Borchardt pistol C 93 (lots 2269, 2420 and 2421) and the much scarcer, but also much more modern-looking and technically advanced Austrian Dormus pistol, Mod. 1896, which will come under the hammer as lot 2719.
We don't have enough space here to point at all the great guns coming to auction. Why don't you just grab a catalogue, flip through the pages and see for yourself! We bet you, there will be a gun suitable for your collection!
Information
| | |
| --- | --- |
| Order number: | A92s |
| Number of lots | 967 |
| Department: | Collections, Firearms |
Related Auction Catalogues