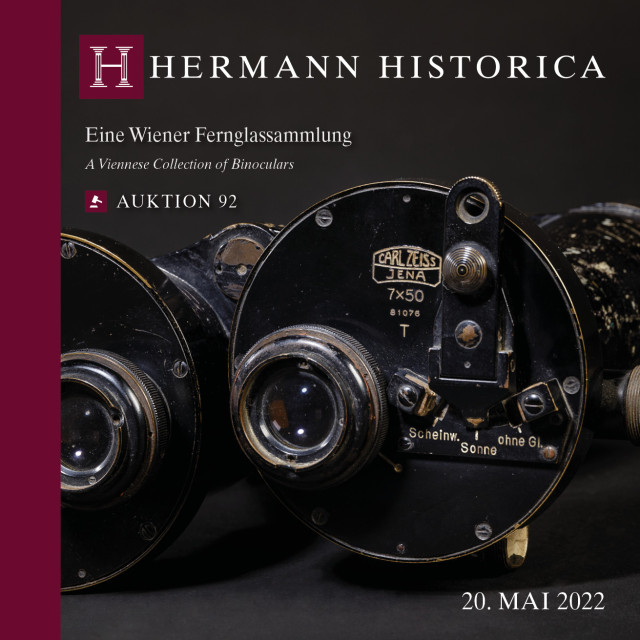 A Viennese Collection of Binoculars
Our catalogue "A Viennese Collection of Binoculars" contains 324 lots. All descriptions are in German and English. The high-quality thread-bound catalogue on high-gloss paper has the format 22 x 22 cm and shows each item in at least one colour photograph. Since our printshop could not guarantee timely delivery of hardcover catalogues, we opted for softcover to make sure that catalogues would arrive well ahead of the auction - and not afterwards.
Description
Since the foundation of Hermann Historica we have not had such an extensive collection of binoculars for sale. This Viennese collection of civilian and military optics – telescopes and binoculars - is absolutely outstanding. 100 years of history, from the middle of the 19th century to the end of the Second World War, from pirate-style telescopes to U-Boat optics for aiming torpedoes – you name it, we have it! Apparently our collector had a specific faible for German manufacturers, Goerz, Hensoldt, Leitz and Zeiss, to name but the most important ones, who built binoculars for the German Army, first the Imperial Army, then the Reichswehr, last not least the Wehrmacht. And within these armed bodies he had an apparent preference for the Navy (as of lot 6211), in particular the famed and much sought after U-Boat binoculars (e.g. lots 6211, 6212, 6281, 6283 to 6294) – exceedingly rare, as most of those ever built now rest on the bottom of the sea.
And we do expect a world record, when lot 6220 will be called! Of the famous Zeiss DF 10x70 H only 5 units (yes, five!) were ever built, and only two are known to have survived - one of which will be the climax of this auction. It's almost brand-new, comes with the tripod attachment, and still shows an outstanding optical quality that can't be beat to this very day. Will it crack the magic 100.000 barrier? We are thrilled to see this auction unfold!
Collectors of non-military binoculars can also look forward to this collection. Be it a very early telescope such as lot 6002, be it a pair of binoculars for hunting, such as e.g. lot 6038, or be it an almost new pair of theatre glasses (e.g. lot 6010) – this collection leaves nothing to be desired. Even collectors of ultra-rare and unique prototypes will not be disappointed, as they will find a number of prototypes with an impeccable provenance – the former Leitz factory museum! Check them out, e.g. lots 6048, 6115 and 6156.
Don't hesitate – take a close look at this special catalogue!
Information
| | |
| --- | --- |
| Order number: | A92f |
| Number of lots | 324 |
| Department: | Collections, German Contemporary History |
Related Auction Catalogues