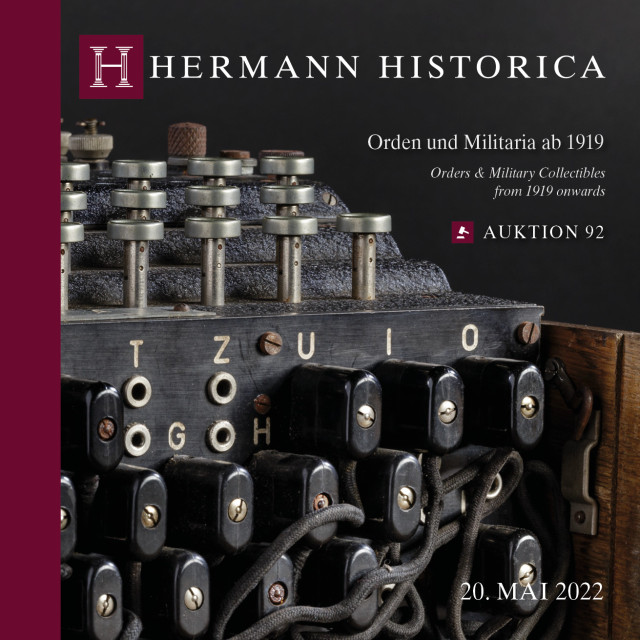 Orders & Military Collectibles from 1919 onwards
Our catalogue "Orders & Military Collectibles from 1919 onwards" includes 696 lots. The descriptions are in German, with English translations of objects above a certain threshold. The high-quality thread-bound catalogue on high-gloss paper has the format 22 x 22 cm and shows each item in at least one colour photograph. Since our printshop could not guarantee timely delivery of hardcover catalogues, we opted for softcover to make sure that catalogues would arrive well ahead of the auction - and not afterwards.
Description
Er ist da: der neue Katalog "Orden und Militaria ab 1919"! Und wie gewohnt warten wieder Spitzenlose und Raritäten auf neue Besitzer – auf Sie! Das breite Angebot an Orden und Abzeichen, an Uniformen und Kopfbedeckungen, an Fotos und Dokumenten umfasst ganze 870 Lose. Und für alle Militaria-Fans ist definitiv etwas dabei! Unter dem Stichwort Rarität sticht jedem sofort das Los 5009 ins Auge. Zum Aufruf kommt eine Einzelanfertigung eines Ehren-Schießpreisdegens von der Firma Carl Eickhorn aus Solingen für das Bayerische Staatsministerium des Inneren. Dieser wurde Herrn Major Peter Schlieper im Jahr 1933 überreicht. Was wäre eine Hermann Historica Auktion ohne Schlüsselgeräte? Dieses Mal kommt ein nahezu vollständig erhaltenes Schlüsselgerät SG 41 Z der Firma Wanderer aus Chemnitz zum Aufruf. Die äußerst seltene "Hitlermühle" SG 41 war der Nachfolger der legendären Enigma und wurde auch in einer vereinfachten Form für Wetterberichte gebaut. Ein solches Modell Z wird unter der Losnummer 5243 versteigert. Eine Besonderheit in dieser Auktion sind die zahlreichen Uhren! Die gesuchte Taucheruhr für Kampfschwimmer der Deutschen Kriegsmarine von Panerai mit dem Rolex Werk Cal. 618 ist dabei natürlich das Spitzenlos (Nummer 5352). Doch werden auch verschiedene beliebte B-Uhren der deutschen Luftwaffe (Lose 5330 und 5331) und der deutschen Kriegsmarine (Lose 5353 bis 5359), u.a. von Lange & Söhne und IWC, für Bietergefechte sorgen. Auch die seltene U-Boot Jagdstoppuhr der Deutschen Kriegsmarine (Los 5360) wird die Herzen der Sammler höherschlagen lassen. Packen Sie die letzte Chance, einmalige Objekte der Sammlung Niederlande 1931 – 1945 zu ergattern, beim Schopf! Nachdem die ersten beiden Teile dieser Sammlung jeweils Verkaufsquoten von 99% bei enormen Preisanstiegen erzielen konnten, wird wohl auch der 3. und letzte Teil dieser einmaligen Sammlung auf großes Interesse stoßen. So kommt z.B. eine äußerst seltene Gefallenenplakette der Jugendorganisation NSJ zum Aufruf (Los 5752). Nicht versäumen! Werfen Sie schon jetzt einen Blick in den Katalog und setzen Sie Ihre Traumstücke auf Ihre Merkliste. Wir freuen uns auf Ihre Gebote!
Information
| | |
| --- | --- |
| Order number: | A92r |
| Number of lots | 696 |
| Department: | German Contemporary History |
Related Auction Catalogues