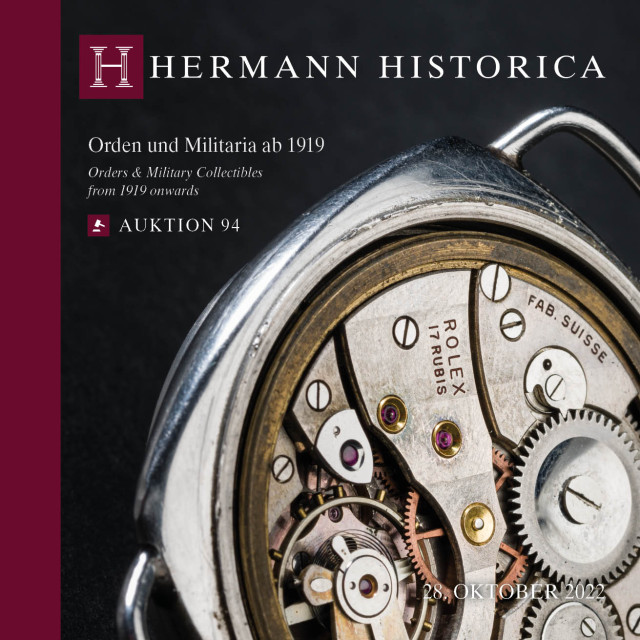 Orders & Military Collectibles from 1919 onwards
Our catalogue "Orders & Military Collectibles from 1919 onwards" includes 810 lots. The descriptions are in German, with English translations of objects above a certain threshold. The high-quality thread-bound catalogue on high-gloss paper has the format 22 x 22 cm and shows each item in at least one colour photograph.
Description
The waiting is over: the new catalogue of "Orders and Military Collectibles from 1919 onwards" is here. As usual, premium lots and rarities are waiting to be snapped up – which is where you come in! The fantastic selection of 870 lots includes a wide range of orders and insignia, uniforms and headgear, photographs and documents. Fans of all things military will definitely be spoiled for choice. Talking of rarities, lot 5009 certainly commands attention. The honorary shooting prize épee, custom-made for the Bavarian State Ministry of the Interior by Carl Eickhorn, Solingen, is now coming under the hammer. It was presented to Major Peter Schlieper in 1933. No Hermann Historica Auction is complete without encryption devices. This time round, enthusiasts can acquire an almost perfectly preserved cipher machine SG 41 Z by the Wanderer-Werke in Chemnitz. Known as the "Hitlermühle", the extremely rare SG 41 was the successor of the legendary Enigma, built in a simplified form for weather reports. One such model Z is now offered for sale under lot number 5243. Meanwhile, a special feature of this auction are the innumerable watches. Naturally, the sought-after dive watch for combat swimmers of the Deutsche Kriegsmarine, by Panerai, with its movement in Rolex calibre 618, is the pièce de résistance (no. 5352). Nonetheless, the other popular aviator's chronometers of the German Luftwaffe (lots 5330 and 5331) and the German military navy (lots 5353 to 5359), some by Lange & Söhne and IWC, are also guaranteed to trigger bidding wars. The remarkable U-Boot underwater hunt stopwatch of the Deutsche Kriegsmarine (lot 5360) will also set collectors' hearts aflutter! Make the most of your last chance to acquire unparalleled objects from the Netherlands collection 1931 – 1945. After the first two parts of this collection achieved gratifying sales quotas of 99% and some astounding price increases, the third and last part of this matchless collection will doubtless also generate enormous interest. How about an exceptionally rare plaque for a K.I.A. member of the youth organisation Nationale Jeugdstorm (lot 5752)? Don't miss out! Browse through the catalogue today and add your favourite items to your personal wish list. We look forward to receiving your bids.
Information
| | |
| --- | --- |
| Order number: | A94r |
| Number of lots | 871 |
| Department: | Deutsche Zeitgeschichte |
Related Auction Catalogues