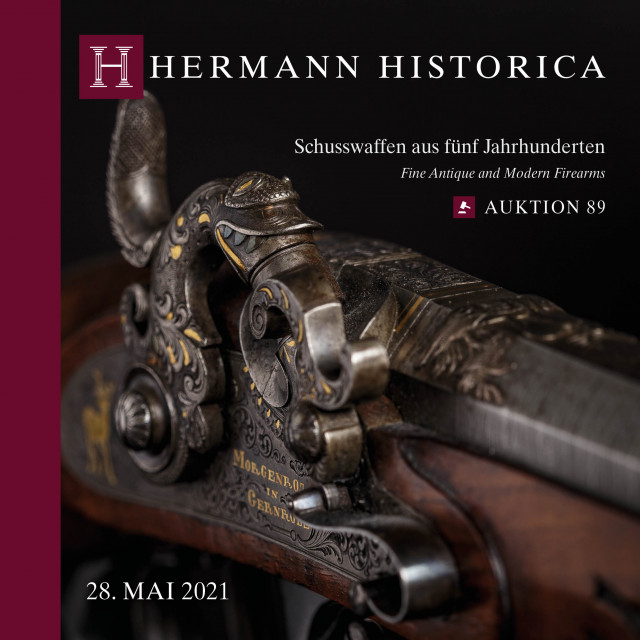 Fine Antique and Modern Firearms
Our catalogue "Fine Antique and Modern Firearms" includes 1.044 lots. The descriptions are in German, with English translations of objects above a certain threshold. The printed catalogue on high-gloss paper is in the format 22 x 22 cm. In our high-quality thread-bound hardcover catalogue all lots are illustrated in color.
Description
By popular demand from collectors of guns, for the very first time, our catalogue for the 89th Auction brings together all the firearms being offered for sale during the large auction week. Therefore, the Oriental, Asian and Indo-Pacific weapons that were previously classified as "Arms and Armour" can now be found in the firearms section.
Among the early weapons, the first-class wheellock rifles and pistols will certainly not disappoint, including a couple of particularly exquisite pieces from Cieszyn. The pair of carbines under lot 2072 is second to none, easily upstaging even museum-quality pieces. Moreover, the master of the animal-head scroll plays a prominent role, crafting the pistols in lot 2094.
If you have a penchant for distinguished presentation weapons, lot 2189 should be on your list: made by Kuchenreuter, these magnificent flintlock pistols were once part of the armoury owned by the Duke of Wellington, who defeated Napoleon at Waterloo. And the former owner of lot 2148, the pair of Silesian pistols, certainly was a member of the beau monde.
We also proudly present several original Winchesters, the famous "gun that won the West", all in mint condition from a fantastic collection, namely lots 2408 to 2426. Winchester also attempted to conquer the East by sending several shipments to Russia – lots 2885 and 2886 – but that did not work out, as history tells us.
Lot 2469 was the first pistol to have its own pop song, appropriately sung by Guns'n'Roses: "One in a Million"! And as Elvis Presley used to say "It's now or never". One single prototype was made of Mauser Model 27, serial number 1. To paraphrase our customary recommendation, "This gun is a must-have for every serious collection – but can only take pride of place in one!" The Haenel machine carbine, lot 3006, is almost equally uncommon. A piece in this condition only comes onto the market every ten years.
It would take too long to give due recognition to all the fabulous pieces, from the splendid percussion rifles to the numerous cased duelling pistols, through to the golden, early weapons of the American Civil War. Have a browse, take a look – you'll be in raptures!
Information
| | |
| --- | --- |
| Order number: | A89s |
| Number of lots | 1044 |
| Number of Pages: | 672 |
| Department: | Firearms |
Index
Literature, Oriental firearms and equipment, Asian firearms and equipment, Artillery and Equipment, Matchlock and Wheellock Rifles, Matchlock and Wheellock Pistols, Flintlock and Percussion Rifles, Flintlock and Percussion Pistols, Air Rifles and Pistols, Powder Flasks and Equipment, Rifles, early Models, Pistols, early Models, Miniatures, Modern Hunting Rifles, Modern Rifles, Modern Pistols and Revolvers, Foreign Service Weapons (Non-German), Service Weapons of the German States
Related Auction Catalogues