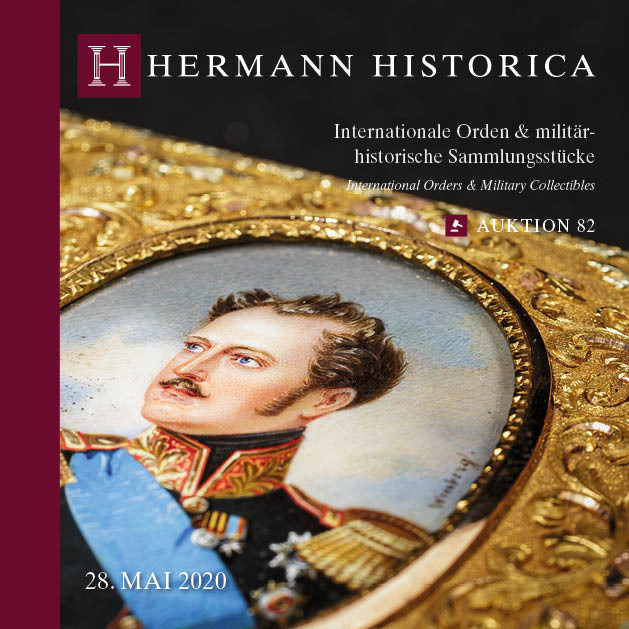 International Orders & Military Collectibles
Our catalogue "International Orders & Military Collectibles" includes 905 lots. The descriptions are in German, with English translations of objects above a certain threshold. The printed catalogue on high-gloss paper is in the format 22 x 22 cm. In our high-quality thread-bound catalogue all lots are illustrated in color.
Description
As ever, this live auction catalogue is a veritable treasure trove of outstanding orders and highly interesting military antiques from Germany and all over the world.
The chapter of German orders presents two exceptional masterpieces from the former Saxon Duchies: an engraved breast star of the Saxe-Ernestine House Order, dated 1878 (lot 5111), and the breast star of the Grand Cross of the Order of the White Falcon (lot 5115).
However, in all likelihood, the absolute highlight of our auction is from the Russian tsarist empire: an orders set of the Imperial Russian Order of St. Catherine, 1st Class with Diamonds, circa 1910 (lot 5061), which was presumably made in the highest jeweller's quality for a member of the imperial family. Equally fascinating is a set comprising the breast star and miniature cross of the Sovereign Military Order of Malta from St. Petersburg in 1799 (lot 5060).
By contrast, from a completely different part of the world, the Medal of Honor was awarded to the soldier Thomas Kelly (lot 5099) for bravery while under fire in the Spanish-American War.
But it is not just our range of orders that is teeming with rarities: rich pickings are also to be had for collectors of military antiques. Apart from such exceptional headgear as the actual visor cap worn by Otto von Bismarck with his cuirassier's uniform (lot 5712) and a helmet for generals and aides-de-camp in the Saxon army (lot 5789), we are delighted to offer a presentation hunting hanger from the Lauenburgische Jäger (lot 5758) and other collectible edged weapons, like the guard infantry officer's sword wielded by Prince Alfred of Saxe-Coburg and Gotha (lot 5753).
Once again, enthusiasts of memorabilia from the estates of crowned heads will strike gold in this auction. A magnificent snuffbox bearing a portrait of Tsar Nicholas I, a gift for his personal physician (lot 5499), is a piece of breathtaking splendour, not least due to its fine workmanship in three-coloured gold. Finally, a gratifying selection of collectible objects once again awaits devotees of Austria's imperial house.
Information
| | |
| --- | --- |
| Order number: | A82m |
| Number of lots | 905 |
| Department: | Orders & Militaria |
Related Auction Catalogues