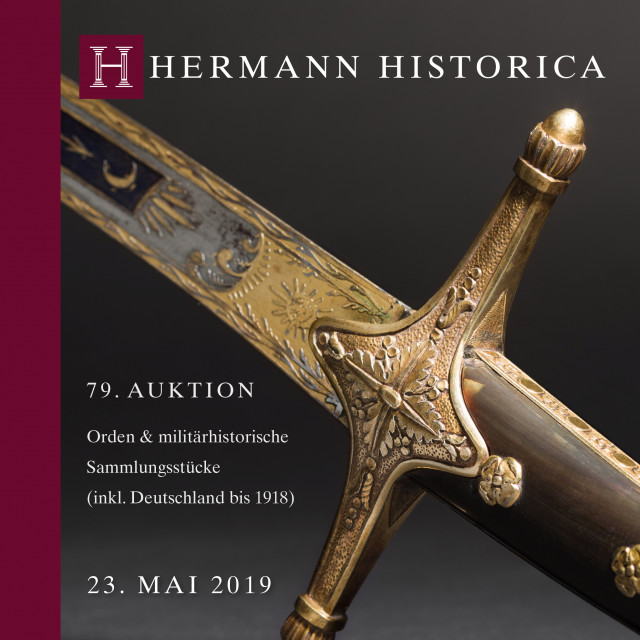 Orders and International Military Collectibles
Our auction "Orders and International Military Collectibles" includes 902 lots. The descriptions are in German, with English translations of objects above a certain threshold. The printed catalogue has 524 pages on high-gloss paper in the format 21x21 cm. In our high-quality thread-bound catalogue with hardback all lots are illustrated in color.
Description
Malicious gossip has it that this catalogue does not contain collectors' items but toys. Toys for men. Even if that were true, what is wrong with that? It is all simply a question of perspective. However, one look at the 1:8 model of the Willys jeep with its trailer and anti-tank gun and you are forced to admit: it may be a toy but of the highest quality. This set was manufactured with incredible attention to detail; everything is made of the right materials – metal, rubber, copper and glass – and can be opened, detached, folded down or tried out. A true masterpiece, "Proudly made in the USA", by Fine Art Models of Michigan. Almost too perfect to play with, incidentally!
Tribute should also be paid to two extremely rare banners, with bids being invited for lot 3319, a banner of the "Comando Generale" of the Gioventù Italiana del Littorio. As only a handful were originally made, it is highly unlikely that many have survived the passage of time. This applies to an even greater degree to the eagle standard of the 1st Podhale Rifles Regiment in Poland, which is absolutely unique. Presented to the regiment by President Ignacy Mościcki in Nowy Sącz on 21 October 1928, it disappeared from sight in the turmoil of World War II. Lot 3528 is now bringing it back to light.
The helmet M 1818 for an officer of the Chevaulegers (lot 3679) is sure to create a certain excitement among Bavaria devotees: a helmet like this, so well preserved in its original condition, only surfaces once every 50 years and deserves a decent drum roll – in this case, perhaps, lot 3223, a drum for a grenadier regiment from the reign of Ludwig XV, would serve as an appropriate instrument.
Why not run your eye over this catalogue and add the objects that appeal to your personal wish list?
Information
| | |
| --- | --- |
| Order number: | A79m |
| Number of lots | 902 |
| Number of Pages: | 524 |
| Department: | Orders & Militaria |
Related Auction Catalogues