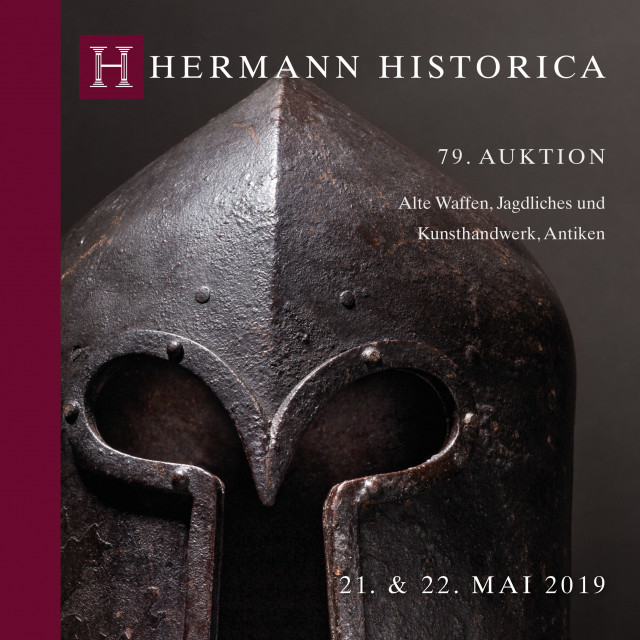 Antique Arms & Armour, Hunting Antiques and Works of Art, Antiquities
Our auction "Antique Arms & Armour, Hunting Antiques and Works of Art, Antiquities" includes 1110 lots. The descriptions are in German, with English translations of objects above a certain threshold. The printed catalogue has 680 pages on high-gloss paper in the format 21x21 cm. In our high-quality thread-bound catalogue with hardback all lots are illustrated in color.
Day 1: Lots 1001 - 1510 / Day 2: Lots 1601 - 2294

Description
It is no coincidence that the extremely rare Milanese barbute, circa 1460, is featured on the cover of this catalogue (lot 2035); after all, the chapter of defensive arms offers a wide array of exceptional pieces of armour and even entire suits. The highlights of this catalogue include several other helmets, contemporaries of the barbute, such as a South European bascinet (lot 2034) or, first and foremost, a fabulous, gilt Morion for the Saxon trabant guard (lot 2046). Above all, connoisseurs of exquisite suits of armour will appreciate the rare Viennese proof marks on the excellently preserved officer's suit of armour (lot 2021) from the arsenal of Austria's capital city. Furthermore, the German cuirassier's armour (lot 2029), in equally good condition, is sure to hold buyers in thrall with its black finish and brass-plated rivets. By the same token, thanks to the swords, daggers and rapiers section, collectors of edged weapons will be in seventh heaven with everything from a Viking sword to South German two-hand swords and splendid deluxe rapiers. Special mention should be made of the breathtaking objects from the Ottoman Empire and Persia, a parade of awe-inspiring flintlock pistols, opulent kilijs and shamshirs or superb armour components for horsemen and their steeds. We advise you to read this catalogue meticulously from cover to cover: you are sure to strike gold.
Information
| | |
| --- | --- |
| Order number: | A79aw |
| Number of lots | 1110 |
| Number of Pages: | 679 |
| Department: | Antique Arms, Antiquities, Kunsthandwerk |
Related Auction Catalogues