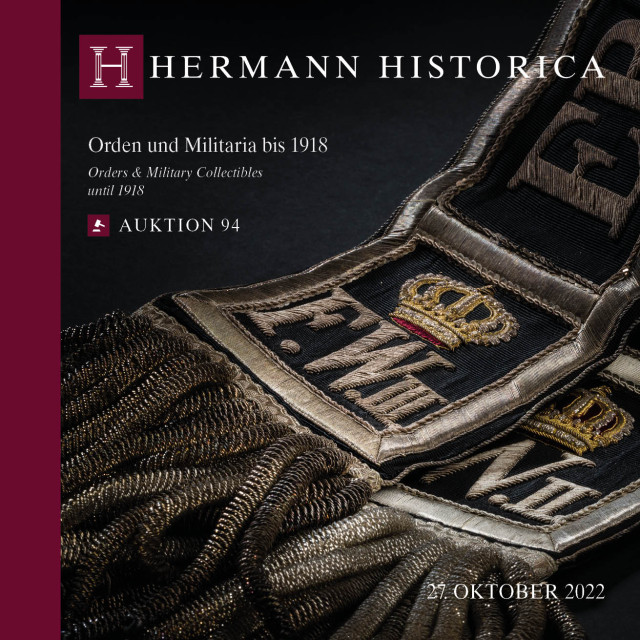 Orders and Military Collectibles until 1918
A94m | Live auction
October 27, 2022 | Start: 10:00 am (CET)
Our auction "Orders and Military Collectibles until 1918" includes xxx lots and will be auctioned in our auction rooms in Grasbrunn near Munich. The auction will take place on Thursday, October 27, 2022. Further information can be found below.
Auction Dates
October 27, 2022 | Lot No. 4501 - 4546 | Start: 10:00 am (CET)
Pre-sale viewing
The pre-sale view will take place from October 17 - 21, 2022 in our auction rooms at Bretonischer Ring 3 in 85630 Grasbrunn / Munich from 11 am to 5 pm (CET).

ATTENTION: Important information about COVID-19 please click HERE.
Auction location
Hermann Historica, Bretonischer Ring 3, 85630 Grasbrunn / Munich
ATTENTION: Important information about COVID-19 please click HERE.
Information
| | |
| --- | --- |
| Order number: | A94m |
| Auktion: | 94 |
| Number of lots | 0 |
| Department: | Orders & Militaria |
Description
It's finally here: our high-quality catalogue of "Orders and Military Collectibles until 1918" for the forthcoming Autumn Auction. From rare orders to collector's items of royal and imperial provenance, uniforms and swords plus two exquisite collections: fans of military antiques won't want to miss this auction! At Hermann Historica, we are honoured to be able to present an array of rare objects that have been family heirlooms for many years. In the Bavaria section, the small, yet fine collection includes legacies from the Bavarian families of Verri della Bosia, Barth zu Harmating and Schirndinger von Schirnding, who produced a number of generals and officers. A chamberlain's key belonging to Carl Askan Graf Verri della Bosia, who fought in the Wars of Liberation 1813-15, stands out in particular (lot 4314). An officer's gift from the Infantry Lifeguards Regiment (lot 4327) and a rare Bavarian general's bicorne (lot 4326) would take pride of place in any museum. With 55 lots, an entire chapter has been dedicated to the exceptional "Simmons Leigh Park Collection". The phenomenal spiked helmets are sure to steal the show here. Also worthy of note is the personal bicorne worn by no less than Kaiser Wilhelm II as Grand Admiral (lot 4234) and a rare czapka for officers of the Royal Uhlan Regiment No. 13 (lot 4232). Admirers can also acquire the personal helmet of Ernest II, Duke of Saxe-Gotha-Altenburg (lot 4273). Meanwhile, an ensemble of remarkable imperial uniforms and headgear was consigned to our auction by the family of the German cavalryman Heinrich Loose, along with the corresponding documents, offering a fascinating insight into a military career at the turn of the twentieth century (lots 4414 – 4416 and lots 4425 – 4429). The Autumn Auction promises to be a rare treat for aficionados of Habsburg memorabilia. The catalogue lists several garments worn by Empress Elisabeth of Austria. Her pastel green silk bodice trimmed with seed pearls and flowers, made by R. Aufhauser of Vienna circa 1860/70 (lot 4122), is just one example. Several documents written in her husband, Kaiser Franz Joseph I's own hand, and an early portrait of him (lots 4115 – 4119) round off the extensive lineup of noble Habsburg mementos, among them a magnificent shrine commissioned by Archduchess Marie Valerie of Austria to commemorate her parents (lot 4149). Antiques originating from noble houses include contemporary papers bearing the original signature of Kaiser Napoleon I (lots 4069 - 4073) and scores of opulent porcelain pieces from the dinner services of the Prussian kings from Friedrich Wilhelm IV to Wilhelm II. There are rich pickings in the orders, with particularly high-ranking Russian insignia, such as a Cross 1st Class from the Order of St. Anna, of St. Petersburg manufacture during the first half of the 19th century (lot 4009). Finally, collectors will also be interested in several versions of the Order of St. George (lots 4015 - 4017) and the Order of St. Vladimir (lots 4018 – 4020).
Information
| | |
| --- | --- |
| Order number: | A94m |
| Auktion: | 94 |
| Number of lots | 0 |
| Department: | Orders & Militaria |