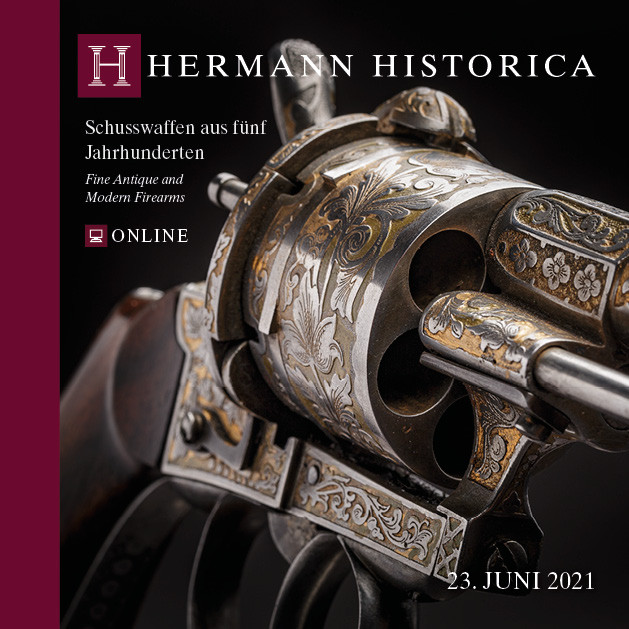 Fine Antique and Modern Firearms
O88s | Online auction |
999 Lots
June 23, 2021 | Start: 10:00 am (CET)
Our auction "Fine Antique and Modern Firearms" includes 999 lots and will be auctioned in our auction rooms in Grasbrunn near Munich. The auction will take place on Wednesday, June 23, 2021. Further information can be found below.
Auction Dates
June 23, 2021 | Lot No. 8001 - 8999 | Start: 10:00 am (CET)
Pre-sale viewing
The pre-sale view will take place from 16. untill 19.06.20201 in our auction rooms at Bretonischer Ring 3 in 85630 Grasbrunn / Munich from 11 am to 5 pm (CET).
ATTENTION: Important information about COVID-19 please click HERE.
Auction location
Information
| | |
| --- | --- |
| Order number: | O88s |
| Auktion: | 88 |
| Number of lots | 999 |
| Department: | Firearms |
Description
This catalogue, filled with 999 lots, features guns for everyone! The list starts ways back when, with early wheel lock rifles such as a wonderful "Müller" rifle by Georg von der Fecht of Berlin. German, Bohemian and American flintlock and percussion rifles paved the way to an extensive chapter of more than 100 flintlock and percussion pistols and revolvers, made by renowned gun makers such as LeRoy of Paris, Erttel of Dresden, Ketland of London, or Griottier of Lüttich, Blisset of Liverpool, Guiasola of Eibar, Chapelle of St. Étienne, and quite a number of Colts. As we move toards the 20th century, you will find many breech loading guns, starting with the American Civil War, offering Mauser rifles and Luger pistols from the Frist, Colt, Walther, Webley and MAC pistols and revolvers from the Second World War, and ending with modern target pistols such as Swiss SIG P210s. For the friend of a good hunt there are side-by-sides, over-and-unders and even Drillings and semi-autos by Blaser, FN, Franchi and Sauer, and even rifles by Mannlicher-Schoenauer, Steyr, Voere and Heckler & Koch. Check it out – there are guns for every kind of collector and any kind of budget!
Information
| | |
| --- | --- |
| Order number: | O88s |
| Auktion: | 88 |
| Number of lots | 999 |
| Department: | Firearms |