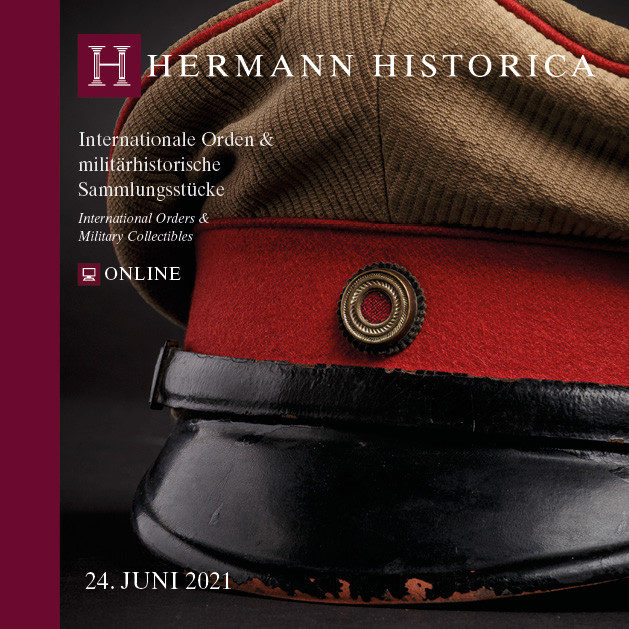 International Orders & Military Collectibles
O88m | Online auction |
603 Lots
June 24, 2021 | Start: 10:00 am (CET)
Our auction "International Orders & Military Collectibles" includes 603 lots and will be auctioned in our auction rooms in Grasbrunn near Munich. The auction will take place on Thursday, June 24, 2021. Further information can be found below.
Auction Dates
June 24, 2021 | Lot No. 9001 - 9603 | Start: 10:00 am (CET)
Pre-sale viewing
The pre-sale view will take place from 16. until 19.06.20201 in our auction rooms at Bretonischer Ring 3 in 85630 Grasbrunn / Munich from 11 am to 5 pm (CET).
ATTENTION: Important information about COVID-19 please click HERE.
Auction location
Information
| | |
| --- | --- |
| Order number: | O88m |
| Auktion: | 88 |
| Number of lots | 603 |
| Department: | Orders & Militaria |
Description
This summer's catalogue of International orders and military antiques holds a wide array of interesting pieces in store, with several highlights as a bonus. These include a distinguished leather case belonging to Louis François Legrand, Secretary General of the Imperial Post, 1804 - 1815 (lot 9147). Made of red morocco leather with gold embossing, it bears the inscription "LE SÉCRÉTAIRE GÉNÉRAL DES POSTES IMPÉRIALES" in gold. It is extremely rare for such an early artefact to be attributed beyond doubt to a specific person. Louis François Legrand (1752-1841) was Secretary General of the Post from 1791 until his retirement in 1816. Serving under four successive governments, he had a decisive influence on the French postal service during the Napoleonic Era.

Moreover, dating from the First Empire, we will be presenting six autographs of Napoleon I, among them a letter from his invasion of Russia in 1812, in which he sends commands to Ney from Smolensk (lot 9154). The magnificent robes of the Hungarian magnates, such as the two-part gala costume (lot 9270), are virtually unobtainable on the market. These fine garments were worn by the Hungarian high nobility, which was also part of the government, on important occasions and at solemn ceremonies. They were made of opulent materials such as silk brocade and velvet, embellished with gilt lacing and fur trim. Typical occasions include the coronation of Kaiser Franz Joseph and Empress Elisabeth of Austria-Hungary in Budapest in 1867 and the millennium celebration in Budapest in 1896. Count Ödön von Szechenyi, Count Andrassy and Prince Esterhazy are famous for their sumptuous robes.

Next up is a rare visor cap from the tropical uniform issued to officers in the imperial German protection force in the colonies (lot 9592). The top is made of sand-coloured corduroy, while the top piping and trim are in ponceau red cloth. Furthermore, lot 9593 is a similar officer's cap from the protection force in Cameroon and Togo. Among the insignia on offer is an Order of the Iron Crown, 3nd Class with war decoration, inscribed "Rozet & Fischmeister", complete with its reddish-brown presentation case (lot 9054). The four-part orders clasp awarded to a Bavarian officer (lot 9091) boasts a Military Merit Order 4th Class with Swords, the riband buckle stamped "950" and the manufacturer's initials "JL" (Jacob Leser, Straubing).
Also worthy of note is the Iron Cross 1st Class, engraved with the name of the bearer, a regiment physician during World War I (lot 9105), who continued to practise as a doctor for many years following his return to Gütersloh, making his mark in local history.
Information
| | |
| --- | --- |
| Order number: | O88m |
| Auktion: | 88 |
| Number of lots | 603 |
| Department: | Orders & Militaria |