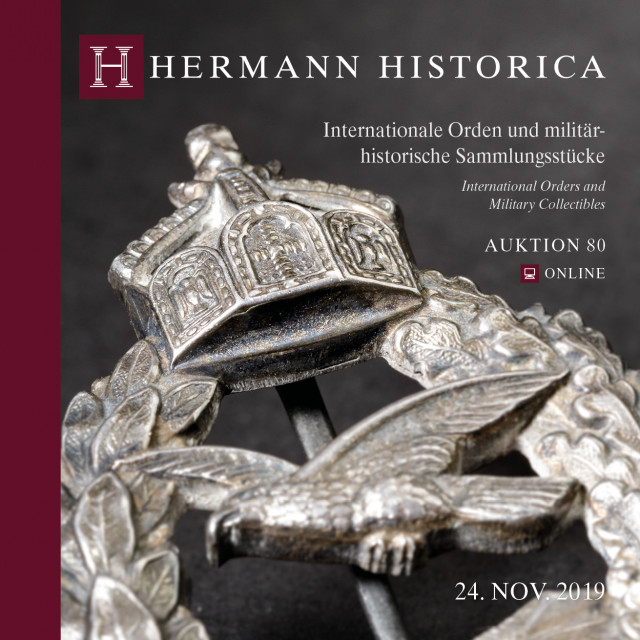 International Orders and Military Collectibles - online
O80m | Live auction |
451 Lots
November 24, 2019 | Start: 2:00 pm (CET)
Our online only auction "International Orders and Military Collectibles" includes 451 lots. The online auction will take place on November 24, 2019 only on the internet and starts at 2 pm (CET). Further information can be found below.
Online catalogue available from mid-October
Auction Dates
Nov. 24, 2019 | Lot No. 7501 - 7951 | Start: 2:00 pm (CET)
Pre-sale viewing
The pre-sale view will take place from Wednesday, 6.11. until Sunday, 10.11., Sunday, 17.11. and on Friday, 22.11.2019 in our auction rooms at Bretonischer Ring 3 in 85630 Grasbrunn / Munich from 2 to 6 pm (CET).
Auction location
Information
| | |
| --- | --- |
| Order number: | O80m |
| Auktion: | 80 |
| Number of lots | 451 |
| Department: | Orders & Militaria |
Description
Boasting over 400 lots in the online-only auction, this catalogue unveils its wide spectrum of German and international decorations. Collectors will be particularly interested in a silver Aviator's Commemorative Badge of Juncker Type (lot 7563), several foreign decorations made by Deschler & Sohn of Munich (lot 7501) and two orders clasps awarded to veterans of the Franco-Prussian War of 1870/71 (lot 7570).
Moreover, the catalogue reveals a wide selection of German and international military antiques, with headgear, uniforms, insignia, edged weapons and equipment from the 18th to the early 20th century. Of particular interest here are an M 1889 helmet in the high quality parade issue for officers of the Regiment Garde du Corps or Guard Cuirassiers (lot 7614), an equestrian statuette of Kaiser Franz Josef I at the 1898 spring parade in Vienna (lot 7813), a marine officer's sabre (lot 7889) and a shashka M 1909 for officers of the Russian dragoons (lot 7849).
Information
| | |
| --- | --- |
| Order number: | O80m |
| Auktion: | 80 |
| Number of lots | 451 |
| Department: | Orders & Militaria |