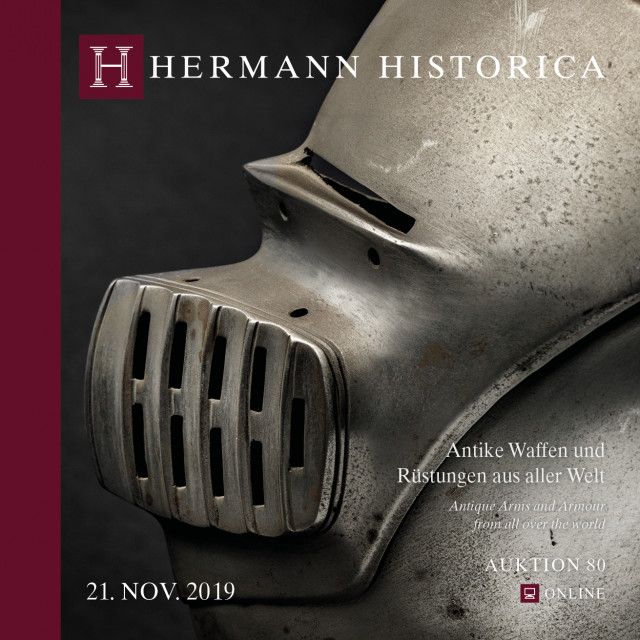 Antique Arms and Armour from all over the world - online
O80aw | Online auction |
714 Lots
November 21, 2019 | Start: 2:00 pm (CET)
Our online only auction "Antique Arms and Armour from all over the world" includes 714 lots. The online auction will take place on November 21, 2019 only on the internet and starts at 2 pm (CET). Further information can be found below.
Auction Dates
Nov. 21, 2019 | Lot No. 6701 - 7414 | Start: 2:00 pm (CET)
Pre-sale viewing
The pre-sale view will take place from Wednesday, 6.11. until Sunday, 10.11., Sunday, 17.11. and on Friday, 22.11.2019 in our auction rooms at Bretonischer Ring 3 in 85630 Grasbrunn / Munich from 2 to 6 pm (CET).
Auction location
Information
| | |
| --- | --- |
| Order number: | O80aw |
| Auktion: | 80 |
| Number of lots | 714 |
| Department: | Antique Arms |
Description
With over 700 lots featuring antique arms and armour from all over the world, this catalogue of the online-only auction is extremely diverse. European swords, rapiers, polearms and pieces of armour from the 16th to the 19th century jostle for position with oriental sabres and daggers, Indonesian krises, Japanese edged weapons, sword fittings and many more. Consignments also include artworks from the Orient, a large selection of Asian antiques, with a focus on China, and ethnographic objects from Africa and Oceania.
It is well worth browsing through the catalogue.
Information
| | |
| --- | --- |
| Order number: | O80aw |
| Auktion: | 80 |
| Number of lots | 714 |
| Department: | Antique Arms |