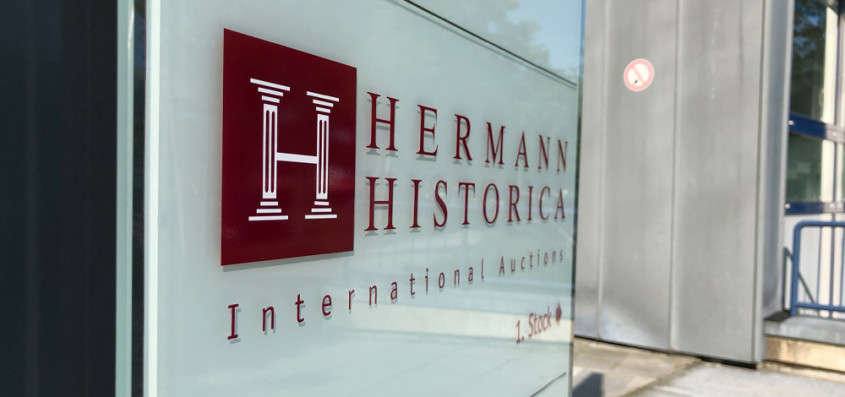 We are moving!
After more than 20 years in the heart of Munich we are finally moving to bigger premises in the suburbs of Munich. You will find us now at Bretonischer Ring 3 in Grasbrunn / Munich.
This location is really easy to find, right off highway A99, exit Haar. You'll enjoy the big, bright and sunny show room, the homy atmosphere of the reception – and lots of parking space right in our backyard! We are very much looking forward to welcoming you in our new offices!

Important information for our customers and consignors:

WE ARE MOVING! THEREFORE PICKUP OF GOODS AND CONSIGNMENTS UPON APPOINTMENT ONLY!
It's best to drop us an email to contact(at)hermann-historica.com or directly to one of our departments – we will return your call right away!

The move is proceeding ...
Our office
Please note: as of today, we are located at Bretonischer Ring 3, 85630 Grasbrunn. We look forward to seeing you.
Plenty of space on the first floor
With an area of over 2,000 m2, we finally have room to expand and accommodate your consignments, all on one floor.
Light-filled offices and consignment rooms
The airy, spacious offices ensure a pleasant working atmosphere, just like the well-appointed consignment rooms. Don't just take our word for it. See for yourself.
A modern layout
Endless flights of stairs and complicated workflows are a thing of the past. The modern layout sets the scene for a structured workflow, from consignment to the experts, on to the photography studios and exhibition rooms. Everything has been carefully planned.
Extensive exhibition and auction rooms
Although these rooms are still under construction, they will guarantee a museum-level presentation of the objects and auction highlights in the near future. Our viewings and auctions will be a source of inspiration.
High-tech photography studios
Work is proceeding full steam head to install ceiling tracks, lighting and screens to equip three photo studios with state-of-the-art technology. Your treasures will be presented as they deserve – in the very best light.
Large-scale storage facilities
Apart from plenty of warehouse space, the building will offer interim storage for our experts and photographers.
Bombproof weapon rooms
Here again, construction is well underway. As the key elements of the building, the thick walls of the weapon rooms give no indication of the uncompromising security and cutting-edge technology they conceal – not yet, at any rate.
A welcoming reception area
Although it is still a shell, we will soon be able to welcome you in our large, inviting reception area, which is directly and conveniently accessible from the parking area via a passenger or service lift. We can't wait until it is all in place!
Our auction house is located on the first floor at Bretonischer Ring 3, 85630 Grasbrunn, directly adjacent to the A99 motorway exit for Haar and five minutes' walk from the S-Bahn stop "Vaterstetten". We are approximately 40 – 45 minutes by car from Munich's central railway station and Munich Airport. The S-Bahn no. 4 (in the direction of "Grafing Hbf.") or the no. 6 (to "Zorneding") from the railway station take approximately 25 minutes, or 50 minutes if you are coming from the airport.