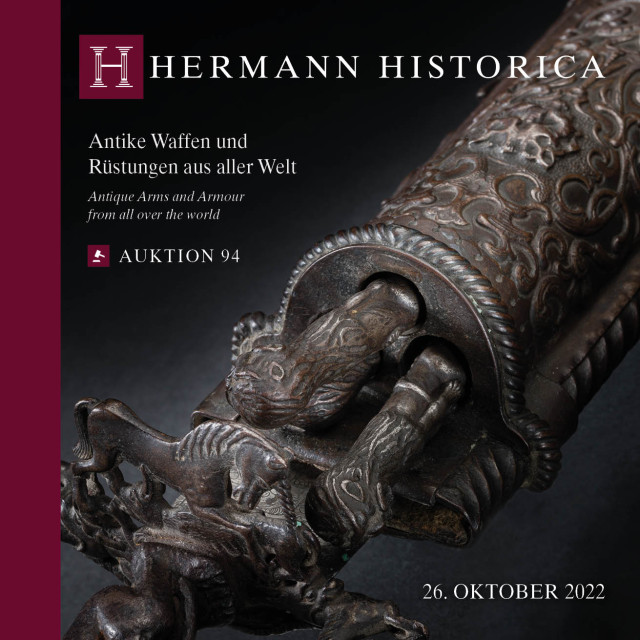 Antique Arms and Armour from all over the world
Our catalogue "Antique Arms and Armour from all over the world" includes 321 lots. The descriptions are in German, with English translations of objects above a certain threshold. The high-quality thread-bound catalogue on high-gloss paper has the format 22 x 22 cm and shows each item in at least one colour photograph.
Description
Once again, we are delighted to present our catalogue for the Autumn Auction 2022, with a fantastic array of exceptional weapons and armour, whose unique character and artistic workmanship reflect the manifold eras of history in their very own, incomparable way. Lot number 3136, a close helmet forged in the middle of the 16th century, demonstrates in spectacular fashion how the basic needs of combatants in battle were aligned with the Renaissance's taste in art. This helmet enclosed the wearer's head completely, thereby protecting him from any potential threats on the battlefield. With its ingenious combination of eye openings and breathing holes and its sophisticated construction, it also ensured that the knight could move his head freely, restricting his view of his surroundings as little as possible. Featuring not just mechanical and functional finesse, the helmet's lavishly etched and gilt embellishment in the form of portrait cartouches, mythical creatures and tendrils displays the entire fantastical language of Renaissance art. Naturally, however, the helmet only protected the – admittedly most important – part of the body, the soldier's head. Only his suit of armour turned him into a force to be reckoned with, practically invulnerable in the fray. His armour had to cover his whole body, offering him optimum mobility in all foreseeable circumstances, all the while, needless to say, satisfying certain aesthetic standards. Plate armour, whose origins date back to the 14th century and which was continually enhanced up until the 16th century, was able to accommodate these very different requirements. In the way in which it encircled the wearer's body, as Bruno Thomas remarked back in the middle of the last century, it was "an articulated sculpture that moved in every direction". Nonetheless, this sculpture was composed of innumerable individual elements, some of them highly specific, which could not always be preserved as one entity. We are thus all the more delighted to be able to present a suit of armour in this auction, which, although assembled from old components, offers in its entirety an authentic, original and imposing image of a suit of armour in the second half of the 16th century (lot 3133). Helmets, armour and shields are among those weapons whose ultimate purpose was to protect or defend their wearer. By contrast, swords were weapons of attack and are surrounded by an almost mystical nimbus to this day. Also coming up for sale is a 10th century Franconian sword (lot 3244) that was clearly forged in the workshop of a true master craftsman. By taking twisted, flexible Damascus strands and welding them to the hard, resistant cutting edges, he created a blade that would surely have been fought over by Viking leaders and Franconian princes alike. Franconian swords, especially those with such elaborate hilts as the one on offer in this auction, were extremely sought-after all over Europe. They were the exclusive province of the most important, highest-ranking dignitaries. The art of fencing continued to be refined until the 16th century (and well beyond, of course). While the Franconian knights of the early Middle Ages still fought with broad swords in their right hand and shields in the left, the 16th century combatant, sheathed in a suit of armour, often waged war with a sword in both hands. Two-hand swords like the specimen now coming up for sale were known in Italy as "spadone". Not only light, they were easy to handle, exceptionally nimble – and deadly. Our sword with the lot number 3251 is one such spadone. Its form is pared to the absolute essentials, at the same time radiating an elegance that will take your breath away, especially for connoisseurs of outstanding antique edged weapons. We look forward to welcoming you to our forthcoming auction and trust that the above description has succeeded in sparking your interest in these and the countless other treasures that await your bids.
Information
| | |
| --- | --- |
| Order number: | A94aw |
| Number of lots | 332 |
| Department: | Antique Arms |
Related Auction Catalogues