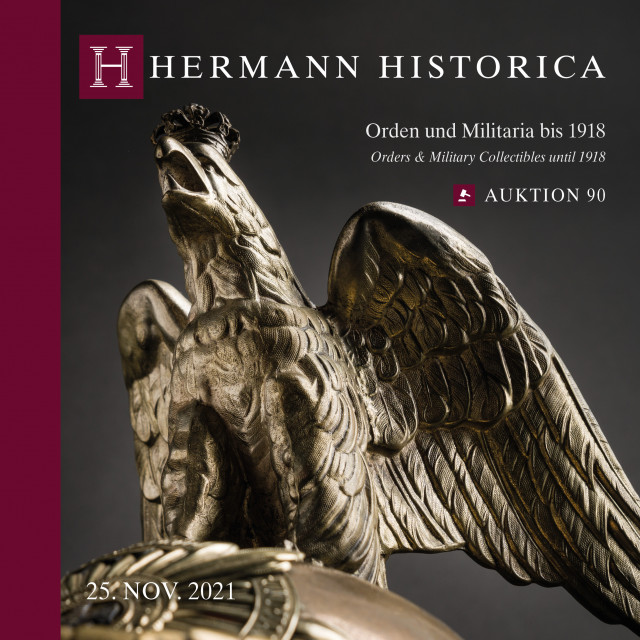 Orders & Military Collectibles until 1918
Our catalogue "Orders & Military Collectibles until 1918" includes 522 lots. The descriptions are in German, with English translations of objects above a certain threshold. The printed catalogue on high-gloss paper is in the format 22 x 22 cm. In our high-quality thread-bound hardcover catalogue all lots are illustrated in color.
Information
| | |
| --- | --- |
| Order number: | A90m |
| Number of lots | 522 |
| Department: | Orders & Militaria |
Index
International Orders and Decorations
Freimaurer, France, Japan, Mexico, The Netherlands, Austria, Tsardom of Russia, Soviet Russia, United States of America
German Orders and Decorations
Baden, Bavaria, Prussia, Saxony, Empire
International Military History
Egypt, Bulgaria, Imperial China, Denmark, France, The Principality of Liechtenstein, Great Britain, Italy, Japan, Imperial Austria, Tsardom of Russia, Sweden, Switzerland, Serbia, Spain, Hungary, Vatican, Varia
German Military History
Germany in general, Anhalt, Baden, The Royal House of Bavaria, Bavaria, Brunswick, Hamburg, Hanover, Hessen-Darmstadt, Mecklenburg-Schwerin, Mecklenburg-Strelitz, Oldenburg, Prussia, Reuss, Saxony, Schaumburg-Lippe, Württemberg, Imperial Germany, World War I, Imperial German Air Force, Navy and "Schutztruppen"
Related Auction Catalogues