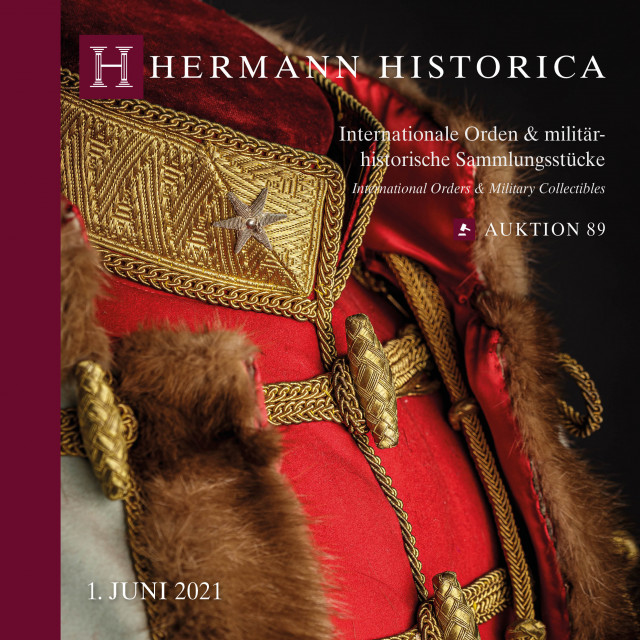 International Orders & Military Collectibles
Our catalogue "International Orders & Military Collectibles" includes 454 lots. The descriptions are in German, with English translations of objects above a certain threshold. The printed catalogue on high-gloss paper is in the format 22 x 22 cm. In our high-quality thread-bound hardcover catalogue all lots are illustrated in color.
Description
Once again in the 2021 Spring Auction, our catalogue is a veritable treasure trove of outstanding orders, highly interesting military antiques and selected collectibles from Germany and all over the world.
The German orders include two exceptional decorations, namely the Pour le Mérite order with the award document for Oberstleutnant Erich Böhme (lot 4024) and an extremely rare, early issue of the Knight's Cross of the Baden Military Order of Merit of Karl Friedrich (lot 49021). Equally remarkable is a group of awards belonging to Oberst Alexander Rech Edlen von Feleky, commander of Austrian Infantry Regiment No. 19 (lot 4190). Another extremely rare find is a reduced-size collar chain of the Imperial Order of the Mexican Eagle: the Grand Cross with Collar was reserved for heads of state (lot 4006). Moreover, we also have a very uncommon variation of the Iron Cross: a 1914 Iron Cross, 1st Class, with a patented clasp (lot 4026). Next up is a badge for order officials of the Russian Order of St. Stanislaus. The badge was introduced in 1839, with chancellors of the order, masters of ceremonies, two heralds of the order and the order secretary entitled to wear it. This order had a strict return obligation (lot 4017).

One highlight of our auction most likely originated from the Russian tsarist empire: a gorget for officers of the Preobrazhensky Life Guards or the Semyonovsky Life Guards Regiment, circa 1910. This very gorget is illustrated on the cover of John Mollo's work, "Military Fashion. A Comparative History of the Uniforms of the Great Armies from the 17th Century to the First World War", New York 1972 (lot 4210).
By contrast, the uniform of a general of the cavalry in Hungarian gala adjustment came from Austria, circa 1900 (lot 4187). From France, we have a significant ceremonial sabre that was presented to General Joseph Nicolas Noël Brice in 1837 (lot 4061). The exceptionally unusual helmet for officers in the Prussian General Staff, circa 1900, is impossible to miss with its parade plume (lot 4340).
However, it is not just our range of military artefacts that is teeming with rarities: interested buyers will also find rich pickings in the other sections. For example, enthusiasts of memorabilia from the estates of crowned heads are certain to strike gold once again in this auction. Bids are thus also invited for an elegant salon gown worn by "Sissi", Empress Elisabeth of Austria circa 1870/80, with an Achilleion label by the Munich dressmaker Marie Braun. It is almost far too beautiful to be worn (lot 4133). For theatre goers and collectors, we have a pair of ivory opera glasses that were a Christmas present from King Ludwig II of Bavaria to his aide-de-camp Karl Theodor von Sauer in 1864 (lot 4269).
Finally, among other treasures, we are delighted to present a letter bearing the original signature of Napoleon I, Smolensk, dated 20 August 1812 (lot 4045). Please see our auction catalogue for other remarkable autographs by Napoleon with a significant historical background.
Information
| | |
| --- | --- |
| Order number: | A89m |
| Number of lots | 454 |
| Number of Pages: | 344 |
| Department: | Orders & Militaria |
Index
International Orders and Decorations
Freimaurer, France, Japan, Mexico, The Netherlands, Austria, Tsardom of Russia, Soviet Russia, United States of America
German Orders and Decorations
Baden, Bavaria, Prussia, Saxony, Empire
International Military History
Egypt, Bulgaria, Imperial China, Denmark, France, The Principality of Liechtenstein, Great Britain, Italy, Japan, Imperial Austria, Tsardom of Russia, Sweden, Switzerland, Serbia, Spain, Hungary, Vatican, Varia
German Military History
Germany in general, Anhalt, Baden, The Royal House of Bavaria, Bavaria, Brunswick, Hamburg, Hanover, Hessen-Darmstadt, Mecklenburg-Schwerin, Mecklenburg-Strelitz, Oldenburg, Prussia, Reuss, Saxony, Schaumburg-Lippe, Württemberg, Imperial Germany, World War I, Imperial German Air Force, Navy and "Schutztruppen"
Related Auction Catalogues