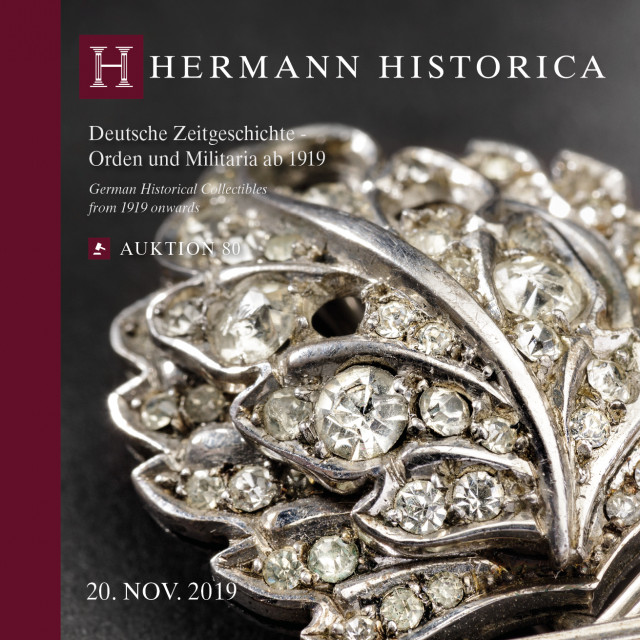 German Historical Collectibles from 1919 onwards
Our catalogue "German Historical Collectibles from 1919 onwards" includes 842 lots. The descriptions are in German, with English translations of objects above a certain threshold. The printed catalogue on high-gloss paper is in the format 22x22 cm. In our high-quality thread-bound catalogue with hardback all lots are illustrated in color.
Description
Boasting several highlights, this year's autumn catalogue of "German contemporary history" is second to none.
These admirable material pièces de résistance include the Oak Leaves with Swords and Diamonds to the Knight's Cross, which was only awarded in very few cases (lot 5709). Heading the procession of edged weapons is the lion's head sabre in Damascus steel wielded by SS Standartenführer Fritz Klingenberg, bearer of the Knight's Cross (lot 5891): well-preserved presentation sabres for celebrated bearers of the Knight's Cross in the Waffen SS are seldom found on the market.
Also particularly worthy of note is the honour dirk of the DAF Ortsgruppe Solingen-Dorp for their comrade Hugo Hollweg (lot 6041), plus a Damascus sword for commanders, a Christmas present from the SS Schwertschmiede Dachau, which trained the Reich swordsmiths (lot 5892). Among the textile artefacts, a standard of the Panzertruppe (lot 5847), the clarion banner of an SS marching band (lot 5855) and two visor caps for generals (lots 5858 and 5939) deserve a special mention. The Goblet of Honour (lot 5936) was awarded to Feldwebel Heinz Niederbacher for outstanding achievements in aerial warfare. Next in line, the roll of honour clasp of the military navy with the award certificate, presented to Matrosenobergefreiter Kurt Graf (lot 5778), combat helmsman on Schnellboot "S26", is a true rarity, being awarded a mere 29 times.
Connoisseurs of edged weapons, decorations or uniforms will be spoilt for choice in this section.
Information
| | |
| --- | --- |
| Order number: | A80r |
| Number of lots | 842 |
| Department: | Deutsche Zeitgeschichte |
Related Auction Catalogues