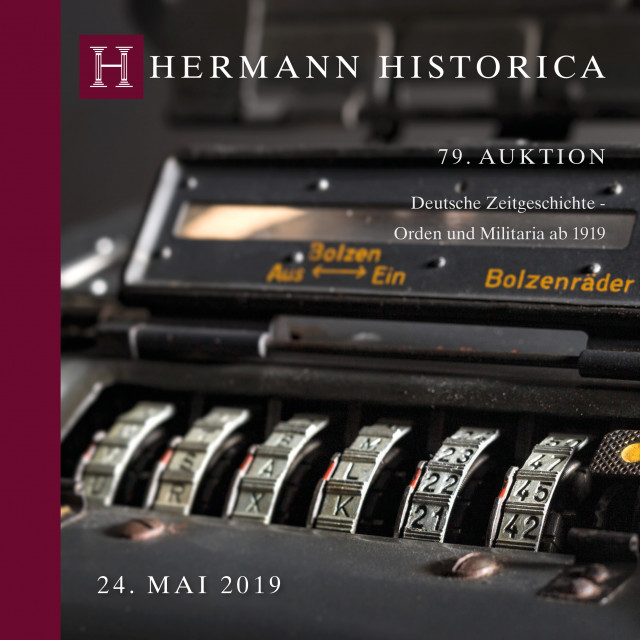 German Historical Collectibles from 1919 onwards
Our auction "German Historical Collectibles from 1919 onwards" includes 787 lots. The descriptions are in German, with English translations of objects above a certain threshold. The printed catalogue has 400 pages on high-gloss paper in the format 21x21 cm. In our high-quality thread-bound catalogue with hardback all lots are illustrated in color.
Description
If you have followed the German media closely over the last few months, the cover image of our contemporary history catalogue will no doubt seem familiar. The extensive reports of an archaeological find made by two metal detectorists in Bavaria sparked off intense coverage in the press: the treasure hunters had actually unearthed an encryption device 41. After some back and forth, it was ultimately presented to the Deutsches Museum, which was thrilled with the donation. The device closed a gap in its collection. This SG-41 is so unusual that even a corroded, unserviceable heap of excavated iron caused transports of joy. Astonishing! Just imagine how absolutely ecstatic a collector would be to get their hands on a functional model of this encryption machine, dubbed the "Hitler Mill", in almost mint condition? Then feast your eyes on lot 4401: the technological wonder that proved an impossible nut to crack for the codebreakers at Bletchley Park, the Russians and Americans in the 1940s. Unbreakable and streets ahead of the Enigma, its encryption algorithms were so good that they have even been incorporated in modern cryptographic software. This is a unique, never-to-be-repeated opportunity to acquire an exhibit that would grace any museum collection.
Moreover, your attention is drawn at this point to another technical highlight with just one drawback: your living room is unlikely to be big enough. Put it this way – when assembled, the Jumo 004 jet engine for the ME-262 (lot 4568) is approximately 4 metres long and weighs almost 500 kg. Although the add-on parts, starter and covering have been lost, it comes with a file full of construction drawings and restoration dossiers. It would be an attractive project for a well-stocked museum workshop.
Apart from marvels of engineering, this catalogue offers the usual plethora of first-class equipment from caps and uniforms, right through to edged weapons and binoculars. Needless to say, there are also paintings, contemporary bronze sculptures and porcelain figures, awards, certificates and documents, books and all manner of items to extend even the most outstanding collection. Check it out today.
N.B. If you can only see the red Hermann Historica logo and not the pictures, you have not yet been validated for the contemporary history catalogue. Please complete the appropriate questionnaire and we will authorise you without delay.
Information
| | |
| --- | --- |
| Order number: | A79r |
| Number of lots | 787 |
| Number of Pages: | 400 |
| Department: | Deutsche Zeitgeschichte |
Related Auction Catalogues