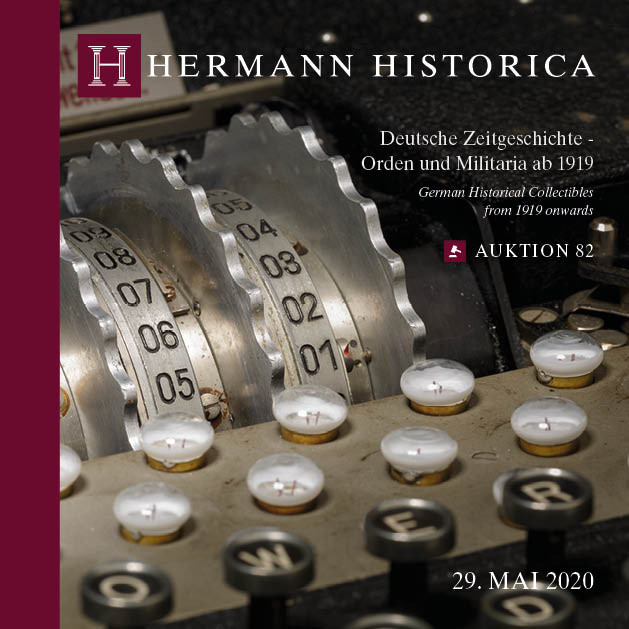 German Historical Collectibles from 1919 onwards
Our catalogue "German Historical Collectibles from 1919 onwards" includes 778 lots. The descriptions are in German, with English translations of objects above a certain threshold. The printed catalogue on high-gloss paper is in the format 22 x 22 cm. In our high-quality thread-bound catalogue all lots are illustrated in color.
Description
Once again, this year's Spring Auction showcases a dizzying array of extraordinary objects from German contemporary history. One of the most impressive pieces is probably Hermann Göring's personal standard as Reichsmarschall (lot 6020).
Furthermore, the personal sword for commanders that belonged to SS-Oberführer Karl Herwig (lot 6384) is not just a sought-after collectors' item, but also comes with the intriguing history of its former owner to boot. The clasp for the evening dress uniform of the SS (lot 6351) is undeniably much smaller, yet it is an even rarer collectible nonetheless.
Another equally magnificent edged weapon – and one of great historical significance – is the presentation dirk awarded to Kapitän zur See Max-Eckart Wolff (lot 6391) in commemoration of his Knight's Cross for his accomplishments in the Battle of Narvik.
However, as in previous years, passionate collectors of all things Luftwaffe will be spoilt for choice in our auction. Worthy of particular note here is the Spanish Cross in Gold with Swords and Diamonds from the estate of General Hellmuth Volkmann (lot 6231). Lot 6445 will most likely be of almost academic interest to the Luftwaffe collector. It includes the aerial kill and combat reports for every one of the 150 aerial victories notched up by Gordon "Mac" Gollob.
The "Enigma I" cipher machine, number "A 10694", manufactured by "jla" (Heimsoeth & Rinke, Berlin) in 1941 (lot 6333), was indirectly associated with both the Luftwaffe and the army. This model was used in army and air force intelligence divisions from around 1937 onwards.
Another particularly rare piece, and thus in great demand, is a jay made of Allach porcelain after a design by Adolf Röhring (circa 1941/42), bearing the model number "128" (lot 6220).
Once again, connoisseurs of edged weapons, decorations or uniforms are in for a real treat in this section.
Information
| | |
| --- | --- |
| Order number: | A82r |
| Number of lots | 779 |
Related Auction Catalogues