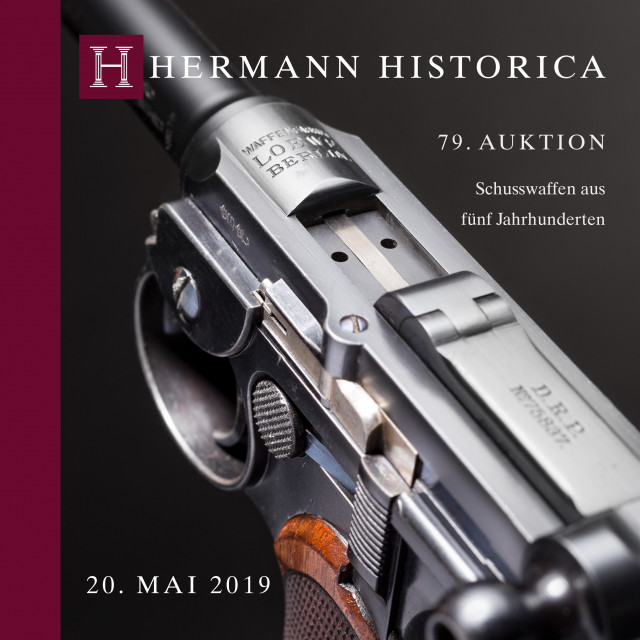 Fine Antique and Modern Firearms
Our auction "Fine Antique and Modern Firearms from 5 centuries" includes 832 lots. The descriptions are in German, with English translations of objects above a certain threshold. The printed catalogue has 472 pages on high-gloss paper in the format 21x21 cm. In our high-quality thread-bound catalogue with hardback all lots are illustrated in color.
Description
Caution! Your blood pressure may go through the roof while leafing through this catalogue. A mere glance at lot number 320, "C93", may potentially have serious consequences. That alone is enough to set the pulse of many a collector racing, even under normal circumstances. Throw in "Loewe" and in "perfect condition" to really set their hearts aflutter. Now add "in the original case, complete with accessories" to the mix and a heart attack from sheer happiness is virtually guaranteed. While the C93 will delight admirers of modern self-loading pistols, the pair of flintlock pistols from Zurich is the ultimate prize for collectors of early systems. Lot number 78 is a signature pair of pistols by the celebrated gunmaker Felix Werder, boasting gilt, engraved brass barrels and lock plates, gilt brass furniture and beautifully grained stocks in birch burl wood, their butt caps carved with grotesque masks in high relief. A dream come true.
Will there be a repeat performance with magnificent wheellock and flintlock rifles? That goes without saying. Wheellock puffers? Of course, this time there is even an unusually large, all-metal military puffer from Nuremberg (circa 1575) in impeccable condition (lot 28). Two curiosities in this auction are the rare, oversized demonstration models from the US Army, namely a Browning M1918 A2 (lot 666) and an Armalite M16 A2 (lot 668).
Aficionados of German service weapons are urged to watch out for an ultra rare firearm: a Mauser G40k with the serial number V84 in almost mint condition, which was probably brought to France from the Mauser factory collection in 1945 and has now found its way back to its former homeland.
Take your time browsing through this catalogue – you obviously don't want to miss a gem.
Information
| | |
| --- | --- |
| Order number: | A79s |
| Number of lots | 832 |
| Number of Pages: | 472 |
| Department: | Firearms |
Related Auction Catalogues