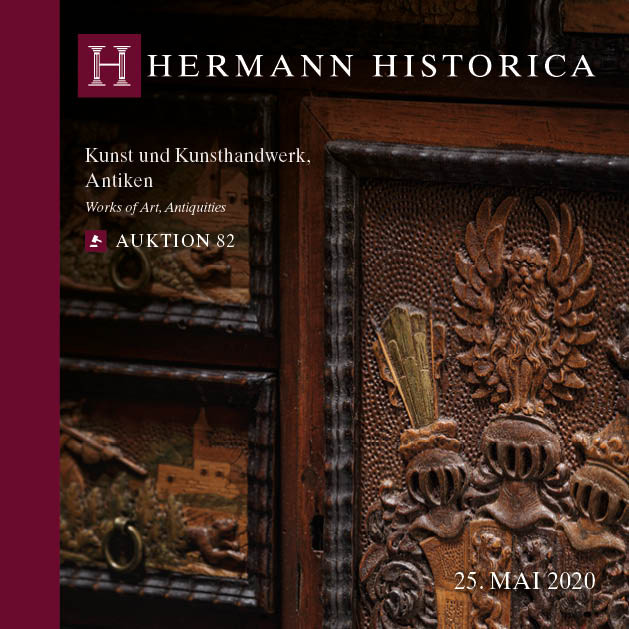 Works of Art, Antiquities
Our catalogue "Works of Art, Antiquities" includes 719 lots. The descriptions are in German, with English translations of objects above a certain threshold. The printed catalogue on high-gloss paper is in the format 22 x 22 cm. In our high-quality thread-bound catalogue all lots are illustrated in color.
Description
Prepare to be amazed!
Black is beautiful: we cordially invite you to browse through the "Antiquities" catalogue and discover the black glazed pottery of the Etruscans and Greeks. The superlative drinking vessels and ceramic jars that were used for ritual purposes bear impressive testimony to the outstanding craftsmanship of antique pottery workshops. The lineup includes original artefacts from early advanced civilisations that would grace any museum collection, such as a silver relief plate depicting the royal hunt with the Sasanian ruler Shapur II (lot 593) or an extremely unusual pair of silver stirrups from the Viking era (lot 681). The stirrups were originally part of a private German collection in the 1920s, before being purchased by an English enthusiast; they are now back in Germany and up for sale this spring.
Furthermore, the "Art and antiques" section contains a wide array of exquisite paintings from the 16th, 17th and 18th centuries. Dated 1665, the portrait of a member of an archers' guild (lot 4) merits special attention. Next up, a magnificent Eger cabinet (lot 343) from the workshop of Johann Karl Haberstumpf (1654 – 1724) is of the utmost rarity. This is just one of several fine cabinets and caskets in the works of art section representing a variety of styles, epochs and provinces.
Several remarkable pieces of furniture from the baroque and classical periods, most of which were formerly part of an extensive Munich collection, are certain to generate much excitement. They include a South German baroque chest of drawers (lot 357) that once stood in the Munich Residence and later in Berchtesgaden Royal Castle.
The sculpture section of the artworks catalogue also offers a range of exquisite figures dating from the Romanesque to classicism. Moreover, made in the 19th century, the fine porcelain figurines from Meißen or the outstanding works in silver and ivory will not disappoint, among them an imposing lidded vermeil trophy cup (lot 211) and a highly decorative, partially gilt chess set in silver (lot 227).
Once again, the chapter of Asian art showcases some fascinating individual objects, such as a larger-than-life sized head of a Dvarapala from the Mon-Dvaravati region in Thailand, 8th/9th century (lot 579).
Information
| | |
| --- | --- |
| Order number: | A82kua |
| Number of lots | 719 |
| Department: | Antiquities, Kunsthandwerk |
Related Auction Catalogues