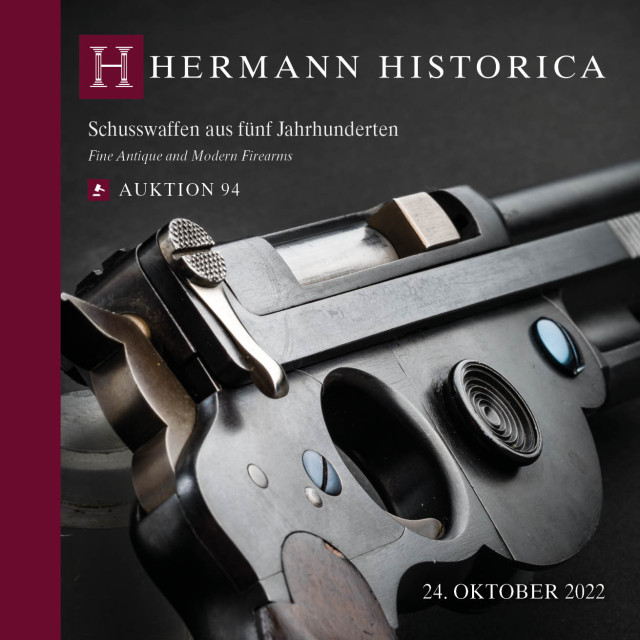 Fine Antique and Modern Firearms
A94s | Live auction
October 24, 2022 | Start: 10:00 am (CET)
Our auction "Fine Antique and Modern Firearms" includes 676 lots and will be auctioned in our auction rooms in Grasbrunn near Munich. The auction will take place on Monday, October 24, 2022. Further information can be found below.
Auction Dates
October 24, 2022 | Lot No. 1001 - 1676 | Start: 10:00 am (CET)
Pre-sale viewing
The pre-sale view will take place from October 17 - 21, 2022 in our auction rooms at Bretonischer Ring 3 in 85630 Grasbrunn / Munich from 11 am to 5 pm (CET).

ATTENTION: Important information about COVID-19 please click HERE.
Auction location
Hermann Historica, Bretonischer Ring 3, 85630 Grasbrunn / Munich
ATTENTION: Important information about COVID-19 please click HERE.
Information
| | |
| --- | --- |
| Order number: | A94s |
| Auktion: | 94 |
| Number of lots | 0 |
| Department: | Firearms |
Description
As might be expected, the 94th Auction entitled "Five centuries of antique and modern firearms" holds a cornucopia of highlights in store for collectors of weapons in all categories and all price levels. It begins with the unregulated weapons, offering a magnificent selection of wheellock and flintlock pistols by prestigious gunsmiths, most notably Cunet of Lyon, lot 1073, Kullnig of Ferlach, lot 1074, Kuchenreuter of Steinweg/Regensburg, lot 1083, and Poltz of Karlovy Vary, lot 1087. It is often more difficult to identify the manufacturer of long guns from this period. The fabulous wheellock rifle, lot 1037, probably originated in Augsburg, while the equally impressive, bone-inlaid wheellock rifle, lot 1033, is from Nuremberg. Friends of more modern systems would be well advised to look at lot 1093 – pellet pistols per se are seldom found on the market, but are even more unusual when made by such skilful hands as Joseph Contriner of Vienna. The splendid cased pistols by LePage of Paris are of somewhat more recent date, already fitted with a percussion ignition system, lot 1097. The modern firearms section is so diverse that it would be impossible to list them all here. The P7 model by Heckler & Koch in all its derivatives, from the early PSP through to the XM9 from US field trials, is very much in vogue among collectors, for example. In this auction, you can choose your favourite from 11 (!) models. Moreover, system collectors should note two extremely unusual weapons: the Knoble 1907, lot 1571, developed for US army trials, yet outclassed by the competition, and the Webley-Mars pistol, lot 1513, developed for the British army trials in 1901 – and likewise doomed to fail. Aficionados of exclusive hunting weapons are strongly recommended to check out lot 1165: a luxury edition of the Sauer & Sohn Mod. 404 in absolute mint condition. Whatever you collect – or is missing in your collection – it's certainly worth browsing through the catalogue.
Information
| | |
| --- | --- |
| Order number: | A94s |
| Auktion: | 94 |
| Number of lots | 0 |
| Department: | Firearms |