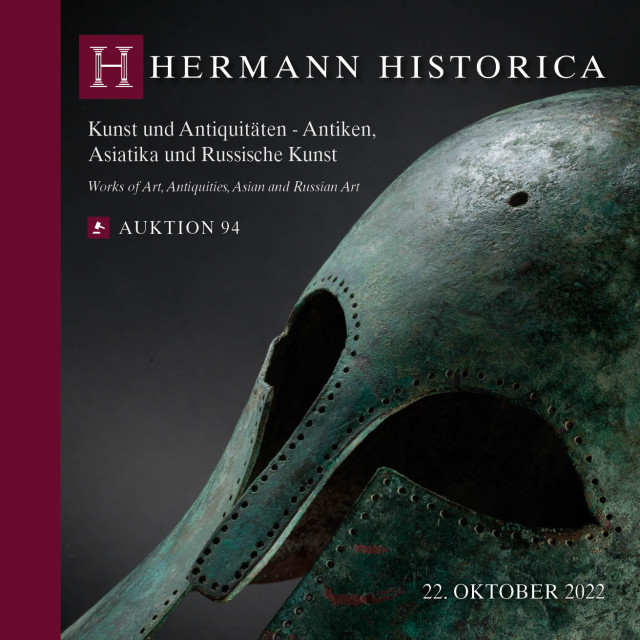 Works of Art, Antiquities, Asian and Russian Art
A94kua | Live auction
Oct. 22, 2022 | Start: 10:00 am (CET)
Our auction "Works of Art, Antiquities, Asian and Russian Art" includes 850 lots and will be auctioned in our auction rooms in Grasbrunn near Munich. The auction will take place on Saturday, October 22, 2022. Further information can be found below.
Auction Dates
October 22, 2022 | Lot No. 1 - 850 | Start: 10:00 am (CET)
Pre-sale viewing
The pre-sale view will take place from October 17 - 21, 2022 in our auction rooms at Bretonischer Ring 3 in 85630 Grasbrunn / Munich from 11 am to 5 pm (CET).

ATTENTION: Important information about COVID-19 please click HERE.
Auction location
Hermann Historica, Bretonischer Ring 3, 85630 Grasbrunn / Munich
ATTENTION: Important information about COVID-19 please click HERE.
Information
| | |
| --- | --- |
| Order number: | A94kua |
| Auktion: | 94 |
| Number of lots | 0 |
| Department: | Antiquities, Kunsthandwerk |
Description
Hermann Historica is ushering in the autumn season with a highly promising auction of art and antiques. With numerous objets d'art from different epochs and in a wide range of materials now coming up for sale, art connoisseurs and art collectors are sure to be spoilt for choice. Heading the procession of lots are the objects from classical antiquity, among them several pieces of museum quality, such as a Corinthian helmet from the middle to the second half of the 7th century B.C. This exceptionally splendid specimen of a helmet of the early second type chiefly owes its striking appearance to the lower edges, which curve strongly outwards (lot 26, guide price: 18,000 euros). Special mention must also be made of a silver Roman casket from late antiquity, dating from the middle to the second half of the 4th century (lot 47). Listed at 12,000 euros, the casket is embellished with incised, gilt décor: geometric ornaments on the sides and a Christogram on the lid. Buyers will also be interested in lot 76, a chain with a Thor's hammer in Mammen Style from the 10th century. The silver foxtail chain extends out into delicately wrought animals' heads. The Thor's hammer has a stylised, hemispherical face at the top, through which the wire ring is threaded. The eyes are filigree spirals, the nose is represented by vertical filigree wire, while the forehead and crown are covered in globules (asking price: 12,000 euros). Asian art is becoming increasingly popular and makes up a considerable share of the lots in this auction. Of particular note here is a Chinese enamelled famille rose plate (lot 53, reserve: 2,000 euros). Adorned with colourful blossoms and tendrils, the copper plate probably dates from the Qianlong period (1735-1795). Next up, a rare Longquan celadon-glazed teapot, probably Ming Dynasty, is attractively estimated at 1,000 euros. The squared body of the teapot is decorated in relief with geometric motifs, water lilies and stylised tendrils. Dragon's heads on the base of the handle add the final flourish (lot 120). A bowl with a wonderfully fine, craquelure ivory-coloured glaze appears exceedingly fragile. The bowl most likely dates from the Sui/Tang Dynasty (613 - 628) and formed part of the "Ge Ren" collection (lot 97, minimum bid: 2,000 euros). Thanks to her majestic, serene gaze, a Gothic Salzburg Madonna stands – metaphorically – head and shoulders above the other sculptures (lot 372). The crowned Virgin Mary cradles the Infant Jesus on her lap. In her right hand, she holds a red apple, the symbol of original sin and the need for redemption. Made circa 1420, the figure still retains the original paint (starting price: 18,000 euros). An ivory lidded goblet is beautifully carved with an antique-style depiction. The three-dimensional shaft shows Achilles slaying Penthesilea, while the cylindrical bowl features a detailed scene from the battle of the Amazons. The fully sculptured knob in the shape of a warrior with his dog could represent Odysseus. Bids from 5,800 euros are now invited for the goblet, circa 1800 (lot 418). The auction also offers a number of distinguished sacral receptacles, such as an Italian gilt-copper ciborium, which was wrought circa 1600 and now has a limit of 5,500 euros (lot 611). A 16th century ostensorium is also resplendent in gilt copper, its hexagonal body made with glazed arches (lot 610, catalogue price: 7,500 euros). One highlight of the auction is an Augsburg communion chalice with enamel plaques. The gilt silver chalice was fashioned by the master craftsman Johann David Saler (active from 1693 to 1724). The body is decorated with chased cherubim, tendrils and rays on a stippled background. The base and the bowl each boast three exquisitely painted enamel medallions, portraying St Francis of Assisi, St Anthony of Padua and St Agatha of Sicily on the base and the Coronation of the Virgin, John the Baptist and St Barbara on the bowl (lot 623, opening price: 25,000 euros). An oriental beauty with a cigar and a glass of red wine seems to cast her spell directly over the beholder. This vibrant work by Charles Wilda (1854-1907, Vienna) is moderately valued at 2,000 euros. Even during his lifetime, Wilda was a renowned exponent of Viennese orientalism, with scores of appearances at major contemporary exhibitions. During the 1890s, he was awarded the Kaiserpreis or Emperor's Prize (1895) and the Gold State Medal (1898) (lot 311). Collectors of keys and locks will relish the prospect of countless interesting pieces from six centuries, from the Gothic period right up to the 19th century (see lots 499 – 532). Meanwhile, some 200 works of Russian art and icons will be coming under the hammer. One particularly noteworthy lot in this section is an extremely rare porcelain figurine from "The People of Russia" series. The series comprises 74 figures, which were designed by Pavel Kamensky and made by the imperial porcelain factory (lot 727, guide price: 2,500 euros). Furthermore, two 18th century silver cups are certainly not to be scoffed at: a partially gilt Moscow goblet engraved with a Russian double-headed eagle (lot 665, reserve: 6000 euros) and a large, lidded trophy cup with two chased portraits, probably representing Peter the Great (Peter I, 1682 - 1721, Tsar and Grand Duke of Russia, and first Emperor of the Russian Empire from 1721 to 1725) and Catherine I (1725 - 1727 Empress Regnant). Now estimated at 8,000 euros, the goblet (lot 671) was created by the Moscow goldsmith Nikifor Timofeew and is dated 1754. Lastly, an icon with Saint Sergius and Herman, the founders of Valaam Monastery, truly stands out due to its remarkable height of 125 cm, but primarily to its outstanding artistic workmanship (lot 828, opening price: 6,000 euros).
Information
| | |
| --- | --- |
| Order number: | A94kua |
| Auktion: | 94 |
| Number of lots | 0 |
| Department: | Antiquities, Kunsthandwerk |