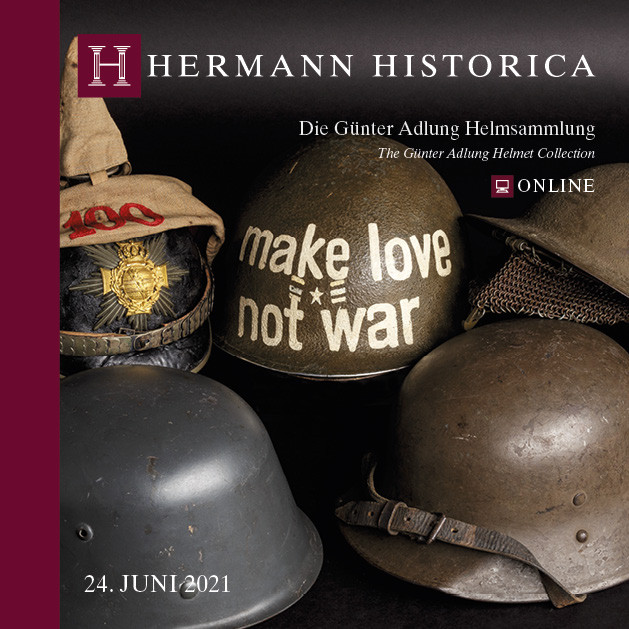 The Günter Adlung Helmet Collection
O88h | Online auction |
345 Lots
June 24, 2021 | Start: 17:00 am (CET)
Our auction "The Günter Adlung Helmet Collection" includes 345 lots and will be auctioned in our auction rooms in Grasbrunn near Munich. The auction will take place on Thursday, June 24, 2021. Further information can be found below.
Auction Dates
June 24, 2021 | Lot No. 10001 - 10345 | Start: 17:00 am (CET)
Pre-sale viewing
The pre-sale view will take place from 16. until 19.06.20201 in our auction rooms at Bretonischer Ring 3 in 85630 Grasbrunn / Munich from 11 am to 5 pm (CET).
ATTENTION: Important information about COVID-19 please click HERE.
Auction location
Information
| | |
| --- | --- |
| Order number: | O88h |
| Auktion: | 88 |
| Number of lots | 345 |
| Department: | Collections, Orders & Militaria |
Description
Günter Adlung, local historian and researcher, was not just a welcome and frequent visitor to cultural and historical museums, his expertise was always in great demand when it came to unknown objects. As the author of several books on the military history of the garrison city of Magdeburg, he offered curious readers invaluable insight into the bygone era of Prussian fortifications. In the late 1960s, he discovered a passion for collecting steel helmets from all over the world. And so his superb collection, well-known in the scene, increased to almost 600 helmets, including some extremely unusual pieces, over more than half a century. In the event of his death, which came unexpectedly, it was his dearest wish that his prized collection be passed on to the best hands via a specialised auction house. We are delighted to take on this task and hope to offer buyers an abundance of authentic illustrative material for the future, regardless of their interest in the history of helmets.
Information
| | |
| --- | --- |
| Order number: | O88h |
| Auktion: | 88 |
| Number of lots | 345 |
| Department: | Collections, Orders & Militaria |