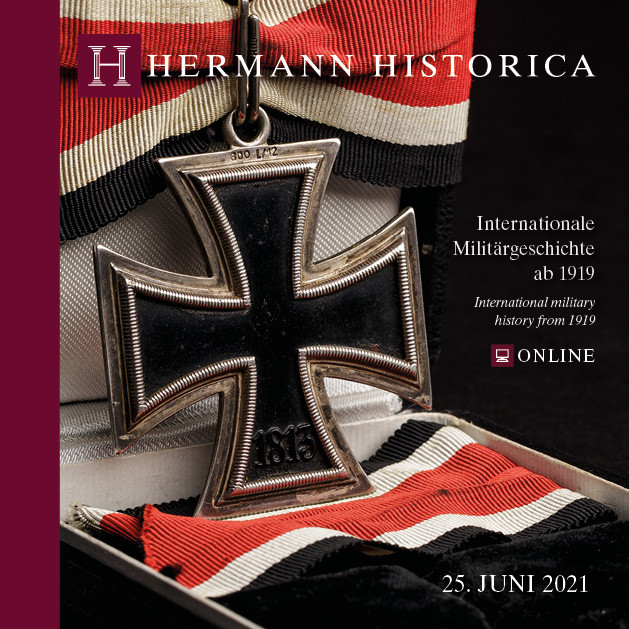 International Military History from 1919
O88r | Online auction |
841 Lots
June 25, 2021 | Start: 10:00 am (CET)
Our auction "International Military History from 1919" includes 841 lots and will be auctioned in our auction rooms in Grasbrunn near Munich. The auction will take place on Wednesday, June 23, 2021. Further information can be found below.
Auction Dates
June 25, 2021 | Lot No. 12001 - 12841 | Start: 10:00 am (CET)
Pre-sale viewing
The pre-sale view will take place from 16. untill 19.06.20201 in our auction rooms at Bretonischer Ring 3 in 85630 Grasbrunn / Munich from 11 am to 5 pm (CET).
ATTENTION: Important information about COVID-19 please click HERE.
Auction location
Information
| | |
| --- | --- |
| Order number: | O88r |
| Auktion: | 88 |
| Number of lots | 841 |
| Department: | Deutsche Zeitgeschichte |
Description
Going, going, gone! Once again, our forthcoming Summer Auction 2021 showcases a fantastic lineup of objects from German and international military history after 1919.
Worthy of special mention is a Knight's Cross from the middle production series of the manufacturer C.E. Juncker, Berlin, on the ribbon and complete with its presentation case (282674). Equally outstanding is the estate of Oberst Walter Vogel, with a Knight's Cross, a German Cross in Gold and his pay book. Or how about a general Assault Badge Grade IV for 75 days of combat, manufactured by Feix, a Luftwaffe pilot's sword with a carrying device or a group of documents and badges belonging to Irimbert Kraiter, "bearer of the Blood Order"?
The porcelain section is also a treasure trove, offering several unusual Allach figurines, such as The Fencer, a Luftwaffe officer and various Christmas plates.
Moreover, with approximately 80 lots, there is a large selection of military toys, from figures to vehicles and accessories, made by the manufacturers Hausser-Elastolin and Lineol, for example.
The military antiques after 1919 from all over the world include a number of highlights, such as the tropical uniform for an Italian admiral in the Regia Marina, documents relating to Charles Lindbergh's solo transatlantic flight in 1927, a photograph album belonging to a Belgian SAS paratrooper, various Russian election and propaganda posters, such as "Stalin and the Red Army", 1941 and a rare, 1982 record by the Fab Four, the legendary Beatles, which was produced by the AFRTS (Armed Forces Radio & Television Service) exclusively for the US troops.
As you can see, collectors of every kind will be spoiled for choice in our summer catalogue. All that remains is to hope you enjoying browsing through our latest print catalogue, which is available once again as usual on our homepage. Furthermore, don't miss our special auction of the helmet collection amassed by Günter Adlung, comprising almost 650 helmets from every corner of the globe, which can be conveniently downloaded as a FlippingBook.
Information
| | |
| --- | --- |
| Order number: | O88r |
| Auktion: | 88 |
| Number of lots | 841 |
| Department: | Deutsche Zeitgeschichte |