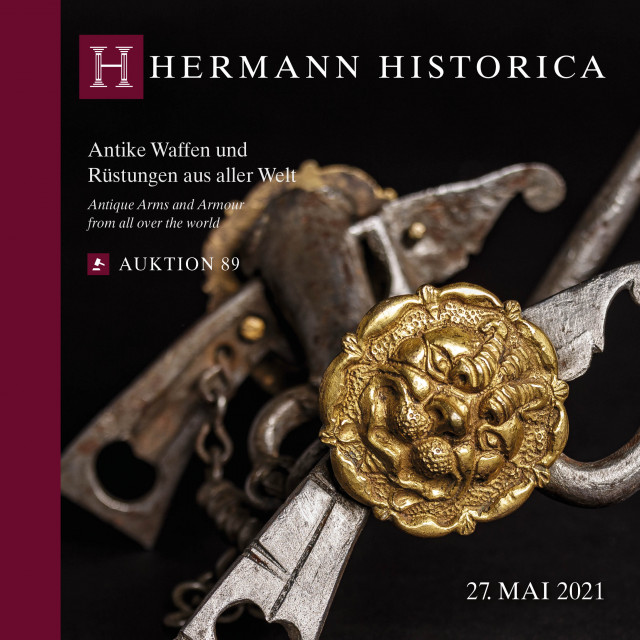 Antique Arms and Armour from all over the world
A89aw | Live auction |
322 Lots
May 27, 2021 | Start: 10:00 am (CET)
Our auction "Antique Arms and Armour from all over the world" includes 322 lots and will be auctioned in our auction rooms in Grasbrunn near Munich. The auction will take place on Thursday, May 27, 2021. Further information can be found below.
ATTENTION: Important information about COVID-19 please click HERE.
Auction Dates
May 27, 2021 | Lot No. 1001 - 1322 | Start: 10:00 am (CET)
Pre-sale viewing
The pre-sale view will take place from 19 - 22 May, 25, 29 and 31 May 2021 in our auction rooms at Bretonischer Ring 3 in 85630 Grasbrunn / Munich from 2 to 6 pm (CET).
ATTENTION: Important information about COVID-19 please click HERE.
Auction location
Hermann Historica, Bretonischer Ring 3, 85630 Grasbrunn / Munich
ATTENTION: Important information about COVID-19 please click HERE.
Information
| | |
| --- | --- |
| Order number: | A89aw |
| Auktion: | 89 |
| Number of lots | 322 |
| Number of Pages: | 288 |
| Department: | Antique Arms |
Description
The 2021 Spring Auction also offers a wide selection of old arms, with over 300 superlative edged weapons and pieces of armour from all over the world.
Collectors of oriental weapons will find a treasure trove of sumptuous daggers, sabres and firearms from the Ottoman Empire, Persia and India, lavishly embellished with coral and ivory. Especially worthy of note here is a deluxe Ottoman shamshir (lot 1009), its gilt quillons additionally studded with diamonds in the shape of a star and crescent. Another outstanding prize, dating from the first half of the 19th century, is a complete suit of Persian armour (lot 1137), with fine ornamental iron chiselling and gold inlays.
Numerous Asian arms, such as magnificent Indonesian krises and Japanese swords, add the final flourish to the wide range of exotic weapons.
Connoisseurs of European suits and pieces of armour will be delighted to find a complete black and white half armour, circa 1560, as well as various helmets, coats of mail and components dating from the early Middle Ages to the beginning of the modern period.
One particular highlight of this year's auction is the fabulous Milanese parade shield circa 1560/70 (lot 1188), wrought with exquisite craftsmanship, which features an ancient battle scene with chased and gold-inlaid décor.
Along with numerous pole arms and hunting spears, this catalogue also includes a diverse assortment of rare European maces and war hammers, dating from the late Gothic and the Renaissance. We would like to draw your attention here to an extremely unusual Russian berdiche, with a silver damascened blade (lot 1207).
The lineup of European edged weapons is equally admirable. Another exceptional rarity is a French medieval sword, circa 1350, (lot 1228) with a delicate bronze pommel. Not just one but two splendid, silver-inlaid weapons of courtly quality (lots 1238 and 1239) stand out among the plethora of opulent rapiers. Above all, aficionados of early military edged weapons will be interested in a phenomenal, two-hand battle sword (lot 1232) dating from circa 1540. Moreover, an imposing, Brunswick two-hand sword, circa 1580 (lot 1236), is certainly one of the highlights of the auction.
The catalogue concludes with an array of crossbows and accessories. As well as two superb Renaissance crossbows, entirely covered in bone inlays (lots 1309 and 1311), there will be a chance to acquire several more affordable models in need of restoration, plus three complete iron cranequins.
Index
Antique Arms and Armour - Literature and Graphic, Arms and Armour - Ottoman Empire, Arms and Armour - Persian Empire, Arms and Armour - Indian Empire, Tibet and Nepal, China and Southeast Asia, Japan, The Indonesian Archipelago, African Arms and Armour, The Americas and Oceania, Spurs, Stirrups and Snaffle Bits, Armour, Polearms, Axes and Maces, Daggers, Knives and Cutlery, Swords, Epees and Rapiers, Hunting Hangers, Crossbows and Equipment
Information
| | |
| --- | --- |
| Order number: | A89aw |
| Auktion: | 89 |
| Number of lots | 322 |
| Number of Pages: | 288 |
| Department: | Antique Arms |