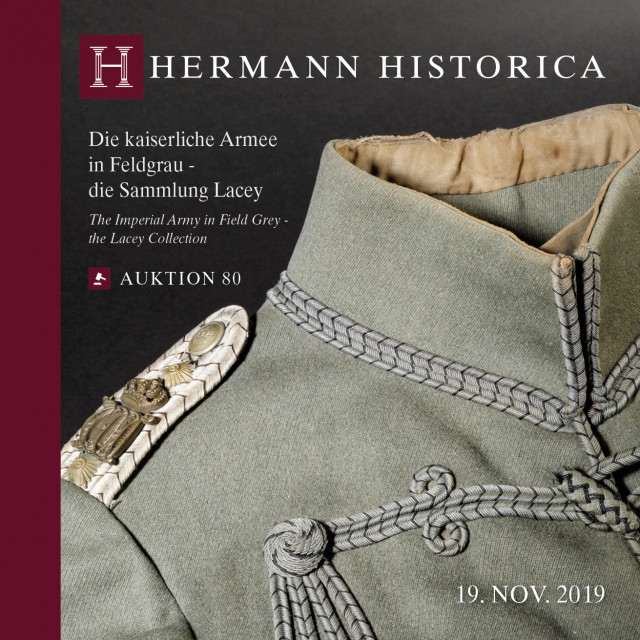 The Imperial Army in Field Grey - the Lacey Collection
A80cl | Live auction |
95 Lots
November 19, 2019 | Start: 1:00 pm (CET)
Our auction "The Imperial Army in Field Grey - the Lacey Collection" includes 95 lots. The auction will take place in our new auction rooms in Grasbrunn near Munich on November 19th, 2019. The start is at 1:00 pm (CET). Further information can be found below.
Online catalogue available from mid-October
Auction Dates
Nov. 19, 2019 | Lot No. 5201 - 5295 | Start: 1:00 pm (CET)
Pre-sale viewing
The pre-sale view will take place from Wednesday, 6.11. until Sunday, 10.11., and on Sunday, 17.11.2019 in our auction rooms at Bretonischer Ring 3 in 85630 Grasbrunn / Munich from 2 to 6 pm (CET).
Auction location
Hermann Historica, Bretonischer Ring 3, 85630 Grasbrunn / Munich, Germany
Information
| | |
| --- | --- |
| Order number: | A80cl |
| Auktion: | 80 |
| Number of lots | 95 |
| Department: | Collections, Orders & Militaria |
Description
With a first-class collection of German uniforms from the Imperial Era, this special catalogue complements the military antiques in our autumn auction in unique fashion. Nearly 100 lots represent uniforms worn by the uhlans, hussars, field artillery and infantry in various regiments in Prussia, Saxony and Bavaria. In most cases, the uniforms are field grey and in good condition. Highlights include a tunic from the field-grey M 1915 peacetime uniform for a Leutnant in the 5th Foot Guard Regiment, the personal, field-grey General's overcoat belonging to Ernst August II of Hannover (1845 - 1923) and a tunic for enlisted men of the 1st Royal Saxon Infantry Battalion No. 12.
Information
| | |
| --- | --- |
| Order number: | A80cl |
| Auktion: | 80 |
| Number of lots | 95 |
| Department: | Collections, Orders & Militaria |