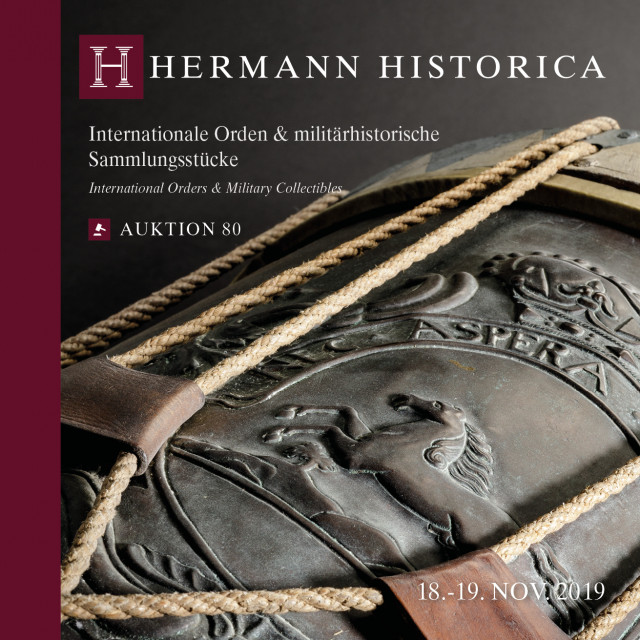 International Orders and Military Collectibles
A80m | Live auction |
1157 Lots
November 18 - 19, 2019
Our auction "International Orders and Military Collectibles" includes 1,157 lots and will be auctioned off in two days. The auction will take place in our new auction rooms in Grasbrunn near Munich from November 18th to 19th, 2019. Further information can be found below.
Auction Dates
Nov. 18, 2019 | Lot No. 3851 - 4916 | Start: 10:00 am (CET)
Nov. 19, 2019 | Lot No. 4951 - 5183 | Start: circa 1:30 pm (CET)
Pre-sale viewing
The pre-sale view will take place from Wednesday, 6.11. until Sunday, 10.11., and on Sunday, 17.11.2019 in our auction rooms at Bretonischer Ring 3 in 85630 Grasbrunn / Munich from 2 to 6 pm (CET).
Auction location
Hermann Historica, Bretonischer Ring 3, 85630 Grasbrunn / Munich, Germany
Information
| | |
| --- | --- |
| Order number: | A80m |
| Auktion: | 80 |
| Number of lots | 1157 |
| Department: | Collections, Orders & Militaria |
Description
As in previous years, this live auction catalogue presents a wide range of orders and military antiques from Germany and all over the world. Furthermore, the German military history section holds two extraordinary objects in store. With the disposal of two large collections, the Saxony chapter is particularly extensive, comprising almost 250 objects, including rare helmets, weapons and items of uniform from the Electorate of Saxony, the Kingdom of Saxony as of 1806 and the remaining Saxon Duchies.The Lengelsen collection of edged weapons is a collector's dream come true, focusing on Brunswick and Hannover, with almost 200 rare military edged weapons from the 18th and 19th centuries.
Next up, the innumerable highlights among the international military antiques will not disappoint. A helmet made for the k.u.k First Arcieren Life Guards (lot 4255) is sure to be warmly received, along with the superlative ceremonial sabre presented by the Scottish Brechin Volunteer Infantry Corps in 1808 (lot 4392) and the rare cartridge box for officers of the Place Guard during the reign of Emperor Maximilian I of Mexico from 1864 to 1867 (lot 4174).
Lovers of Europe's royal houses can look forward to a good deal of opulent, rare memorabilia, such as the general's uniform worn by King Frederick VI of Denmark, Duke of Saxe-Lauenburg (1768 - 1839), circa 1814/20 (lot 4009). Bids are also invited for a contemporary portrait of the young Maria Theresia from Austria's imperial house, in the original, gilt wooden frame (lot 4184), together with a small assortment of personal garments and other items belonging to Empress Elisabeth of Austria (lots 4219-31).
Information
| | |
| --- | --- |
| Order number: | A80m |
| Auktion: | 80 |
| Number of lots | 1157 |
| Department: | Collections, Orders & Militaria |