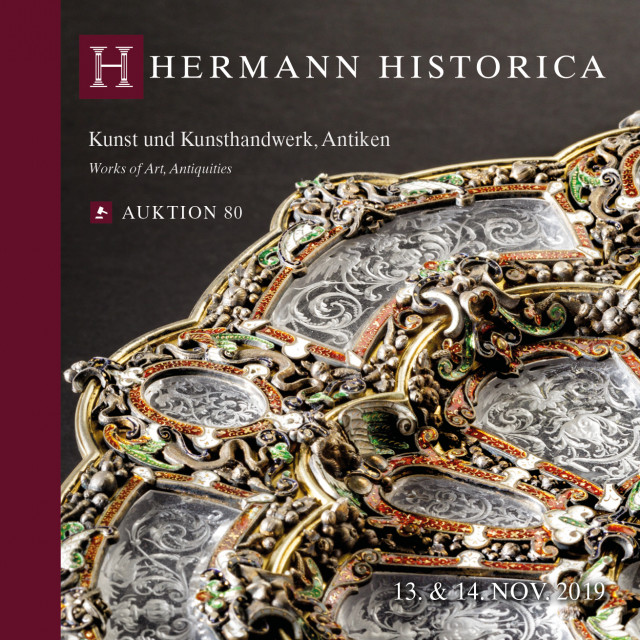 Works of Art, Antiquities
A80kua | Live auction |
1050 Lots
November 13-14, 2019
Our auction "Works of Art, Antiquities" includes 1,050 lots and will be auctioned off in two days. The auction will take place in our new auction rooms in Grasbrunn near Munich from November 13th to 14th, 2019. Further information can be found below.
Online catalogue available from mid-October
Auction Dates
Nov. 13, 2019 | Lot No. 1601 - 2524 | Start: 10:00 am (CET)
Nov. 14, 2019 | Lot No. 2525 - 2718 | Start: 12:00 am (CET)
Pre-sale viewing
The pre-sale view will take place from Wednesday, 6.11. until Sunday, 10.11., and on Sunday, 17.11.2019 in our auction rooms at Bretonischer Ring 3 in 85630 Grasbrunn / Munich from 2 to 6 pm (CET).
Auction location
Hermann Historica, Bretonischer Ring 3, 85630 Grasbrunn / Munich
Information
| | |
| --- | --- |
| Order number: | A80kua |
| Auktion: | 80 |
| Number of lots | 1050 |
| Department: | Antiquities, Kunsthandwerk |
Description
Around the world in 1,000 lots!
The "Art and Handcrafts, Antiquity" catalogue for this live auction bears impressive testimony to the tremendous diversity of mankind's cultural history.
Embark on a journey of discovery through original artefacts from the earliest advanced civilisations, such as the limestone statuette of an Egyptian pharaoh (lot 1601) or the signet ring worn by a Byzantine dignitary in the 6th century A.D. (lot 1770). The first part of the catalogue, the antiquities section, also showcases other aspects of everyday culture, such as the manifold concepts of the afterlife and death rituals: good examples of these are an Ancient Egyptian canopic jar (lot 1602), an early Iron Age death mask (lot 1820) or the slightly smaller than life-sized terracotta head of a warrior from the Meso-American Remojadas culture (lot 1870). In the 18th and 19th century, a fascination with the ancient world was firmly rooted in aristocratic and bourgeois circles; those who could afford it, undertook the Grand Tour. One souvenir from these travels is the exquisite miniature model of the Column of Marcus Aurelius (lot 1887).
As regards the second part of the catalogue, we are delighted to be able to offer you a particularly diverse array of over500, hand-picked objects ranging from the early Middle Ages to the modern era. An unusual pair of French Renaissance armchairs represents the pinnacle of early European craftsmanship (lot 2227). Remarkable eye-catchers among the early metal works include a Gothic church bell (lot 2208), a wide selection of Nuremberg iron caskets and some top-notch 17th century pewter items, along with an engraved Viennese polishing jug, dating from approximately 1600 (lot 264). A large, 17th century ebony cabinet from Antwerp, its interior decorated with fine silk embroidery, stands out among the scores of sumptuous baroque caskets and coffers (lot 2275).
Moreover, the numerous interesting pieces in the fine arts section will not escape buyers' notice. Besides various portraits from the Renaissance and Baroque periods, plenty of landscape and genre pictures from the 17th to 19th century are waiting to be snapped up. Among the sculptures, the fire-gilt bronze figure of Chronos (lot 2569), produced circa 1800 in Paris, is particularly worthy of note.
Equally outstanding is the abundant assortment of non-European antiques from Africa, Orient and Asia, for example, a rare, stone Buddha head from the Borobudur temple in Java. The larger-than-life piece (lot 2696) dates from the 9th century A.D. The parade of exceptional lots continues with a Blanc de Chine statue of Guanyin (lot 2663) and a Chinese sceptre, embellished with cut coral and cloisonné décor (lot 2665).
Information
| | |
| --- | --- |
| Order number: | A80kua |
| Auktion: | 80 |
| Number of lots | 1050 |
| Department: | Antiquities, Kunsthandwerk |