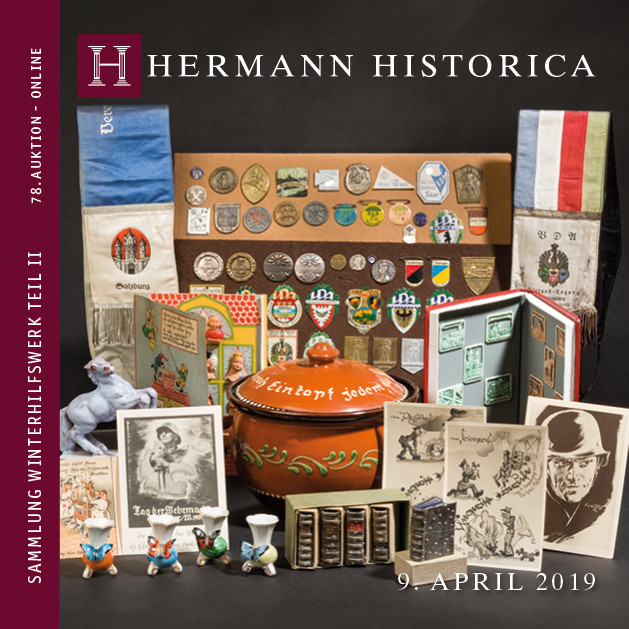 The "Winterhilfswerk" Collection, Part II
O78w | Online auction |
361 Lots
10. April 2019
Online catalogue available by end of February!
Information
| | |
| --- | --- |
| Order number: | O78w |
| Auktion: | 78 |
| Number of lots | 361 |
| Number of Pages: | 96 |
| Department: | Collections, German Contemporary History |
Description
Part 2 of a large Austrian collection is coming to auction! And once again this collection can boast a number of extremely rare objects: WHW-badges from various districts ("Gau") celebrating the "Day of the Wehrmacht", a large number of "Wehrkreis-"tokens, many rare documents, miniature books and booklets on Knights Cross bearers in their original slipcases. But there is much more than that, such as crockery from the Sudetenland, enamel plates, a majolica horse and objects made of silver.
This time we will also auction off a series of postcards of all kinds, not only the rather common picture post cards from the Reich, but also the well sought after Willrich themes, VDA and police cards, and several cards from the occupied territories. Got to close a few gaps in your collection? Now is the time!
Check those goodies out in our auction preview and go browsing through our showrooms! But beware - there is more to come! Part 3 of this sale is lurking in the dark, ready to take off soon – we'll keep you posted!
Auction Dates
Wednesday, 10th April, 2019 / Start: 13pm / Lots: 4000 - 4360
Pre-sale viewing
Thursday, 4th April, 2019 / 2pm - 6pm
Friday, 5th April, 2019 / 2pm - 6pm
Monday, 8th April, 2019 / 2pm - 6pm
Auction location
Information
| | |
| --- | --- |
| Order number: | O78w |
| Auktion: | 78 |
| Number of lots | 361 |
| Number of Pages: | 96 |
| Department: | Collections, German Contemporary History |